Social bookmarking










Bookmark and share the address of REOPENKENNEDYCASE on your social bookmarking website

Bookmark and share the address of REOPENKENNEDYCASE on your social bookmarking website
Affiliates
Page 2 of 2 •
1, 2
From Jack White's Escape.doc
That last sentence, is a serious contradiction. If you have seen him just before your suspicions should not be aroused by that. You actually would focus more on people who were not there, like Givens.......
Truly doesn't stop to amaze me with his bollox.
12/7/63
            Dallas - Back at the Book Depository, manager [R. S] Truly began taking inventory of his employees.  Several were missing - outside among the crowd, he supposed.  Still, he went to a policeman and told him Lee Harvey Oswald wasn't there.  He described the 24-year-old stock clerk.
"Frankly, I don't know why I singled him out," Truly said.  "Perhaps because I had seen him shortly before."  AP, 9:39 p.m. CST, Jules Loh
Here is the problem with Truly,


Mr. TRULY related that within fifteen minutes after the shots were fired at President KENNEDY, there were numerous people all over the TSBD building, and he did not know any of them. He assumed that many of them were law enforcement officers, although they were not in uniform. A number of uniformed officers of the Dallas Police Department were making a systematic search of the building and were guarding the doors to the building. [Front doors] About thirty minutes after the shots were fired, Mr. TRULY was on the sixth floor of this building, and any number of newspaper, radio and television reporters, and photographers were on that floor. . . . spectators and others not connected with any law enforcement agency or news media, were wandering around the TSBD building the afternoon following the assassination.
[A60]
[A60]. FBI SA Robert Gemberling's report as cited in Weisberg,
Whitewash II
, 35-36.
There are no wandering strangers or spectators trapped in the TSBD per the ROLL CALL sheets.
So Truly is not supported by the evidence.
Problem is the TSBD, once identified as the suspect location of shots on police radio, is basically swooped down on..
giving little time for these wandering hoards to escape.
but apparently it only takes two minutes to escape the TSBD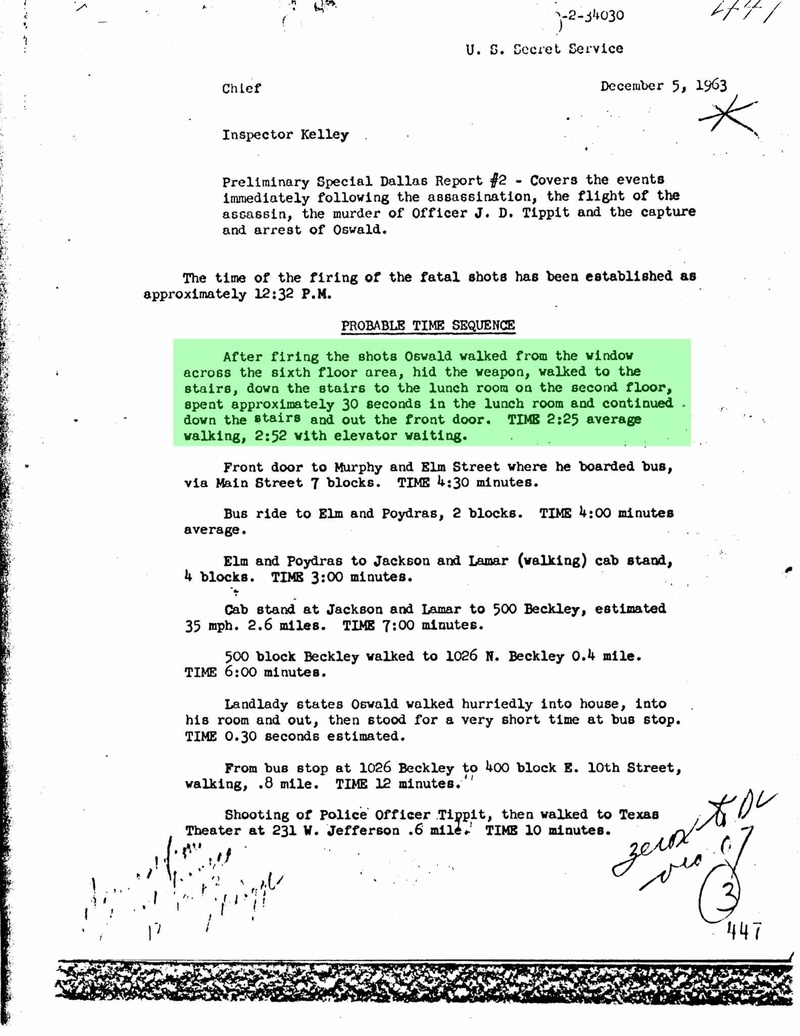 Piper was the porter.
So would be packing books or doing his Porter-ly duties
emptying waste baskets shining shoes or whatever it was he was kept on to do.
But here we see him going home before any lineup or it seems word that there is no more work that day


Mr. BALL. Did you at anytime after the shooting miss Lee Oswald---did you notice he wasn't around?
Mr. PIPER. No, sir; I didn't notice it until the lineup. You know, I just figured all the people was there.
Mr. BALL. You did notice it at the lineup, did you?
Mr. PIPER. Yes.
Mr. BALL. Tell us about that.
Mr. PIPER. I did notice it in the lineup.
Mr. BALL. What do you mean by the lineup?
Mr. PIPER. I mean, when they lined us all up and told us to give our name and address and just to go home.
Mr. BALL. You say "they"; who do you mean?
Mr. PIPER. The detective---whoever it was.
Mr. BALL. The police?
Mr. PIPER. Yes; they had the building all surrounded. They went to locking the doors back and front and
told us to all come up and then go home, and I told him, I says, "I've got to go down in the basement and get my clothes," and he said, "You can go down and get your clothes and come on back up here, but give me your identification and your name and tell us where you are staying," and everybody heard me say that, I guess, and he let us out of the building, one by one, and I went on out the front door.
Mr. PIPER. No, sir; I didn't mention it but I knows he wasn't in the lineup, and Charles---I don't know whether he was, but he went out for lunch.
Mr. BALL. Was Charles Givens there?
Mr. PIPER. I couldn't remember seeing him. He went out for lunch and I don't remember whether he come out from the building again or not
because I was getting dressed to get out of there myself.
Mr. BALL. That's all.
Mr. PIPER. Thank you, Mr. Chairman.
BOOM! Why was Eddie getting dressed to go home, in the basement, and not aware of any lineup?
Oh man Ball cut him off after he said he was "GETTING DRESSED TO GET OUT OF THERE MYSELF."
Who else was there in the basement?
Buell was in the basement with his, lunch, clothes, etc. too.... well well
Cheers, Ed
From Jim Marrs' Crossfire. p314
RIP Jim, your book is one of the reasons why I got into this!


This was confirmed in 1981 by Dallas Morning News reporter Kent Biffie, who recalled that day in a lengthy article based on his notes of that day. Biffle wrote:
. . . only two of us [reporters] had arrived at the ambush building [ the Depository] by this point. . . . Getting in was no problem. I just hid my press badge . . . and went in with the first wave of cops. . . . Hours dragged by. The building superintendent showed up with some papers in his hand. 1 listened as he told detectives about Lee Oswald failing to show up at a roll call. My impression is that there was an earlier roll call that had been inconclusive because several employees were missing. I his time, however all were accounted for except Oswald. 1 jotted down the Oswald information. . . . Neither the police in the building nor the superintendent knew that Oswald already was under arrest.

This whole story of Truly going up to Fritz with Oz's name is bollox!!!!
Last edited by barto on Sun 13 Aug 2017, 10:04 pm; edited 1 time in total
2nd source, Jim Leavelle n Texs Monthly Nov 1998
One of the interviewees was Detective Jim Leavelle. During the conversation, he had this to say, "I talked to him, yeah, about 10, maybe 15 minutes one-on-one before Captain Fritz and the other officers came back from the book depository, preparatory to going look for him, and found out he was already there. When the Captain came in and asked me what his name was, and I told him, he asked me where he worked, and he said the book depository, he said, 'You're the one I want to talk to.'
so until he said where he worked Fritz drew a blank
Last edited by barto on Mon 11 Sep 2017, 5:27 pm; edited 1 time in total
Truly is bollox from the start.
His true and unedited statements are being withheld

What addresses and info did Kent jot down, its been a while...?
I need to find the article
Page 2 of 2 •
1, 2
---
Permissions in this forum:
You
cannot
reply to topics in this forum