Social bookmarking










Bookmark and share the address of REOPENKENNEDYCASE on your social bookmarking website

Bookmark and share the address of REOPENKENNEDYCASE on your social bookmarking website
Affiliates
On October 14, 1963, someone claiming to be Oswald supposedly applied for a job at the Weiner Lumber Co. located at the intersection of Maple Avenue and Inwood road in Dallas; close by to the motorcade route from Love field airport to downtown Dallas (see below):
http://www.maryferrell.org/showDoc.html?docId=10672#relPageId=141&tab=page
http://www.maryferrell.org/showDoc.html?docId=95616&search=Samson_Weiner+Dallas+crime+commission#relPageId=113&tab=page
http://www.mapmanusa.com/cci-killing-kennedy-4.html
I don't believe this was the real Oswald because (as discussed elsewhere) there is plenty of reason to believe he (Oswald) was told that he was going to keep an eye out on Joe Molina at the TSBD for the FBI. I think the person impersonating Oswald was either Larry Crafard or Hebert Lee; both of whom I think somewhat resembled Oswald (most of us also know that several witnesses mistook Crafard for Oswald). It's also interesting that the application was dated the same day on which Oswald supposedly moved into the rooming house at 1026 North Beckley Avenue under the name "O. H. Lee." However, as discussed in the "Herbert 'Leon' Lee" thread at this forum, "O. H. Lee" was most likely Hebert Lee who was living in room O at said rooming house.
Based on this, I tend to think it was Herbert Lee who filled out the application under Oswald's name. But why was it done? In the past I have discussed evidence pointing to some of the plotters wanting to make it look like the Jews were behind the assassination (see my two part essay "Who was behind the assassination?" for example). The Weiner's were of Jewish ancestry. I think having "Oswald" fill out an application for employment at the Weiner Lumber Co. located close by to the motorcade route was quite possibly a part of this plot. It's possible the conspirators had inside knowledge at the time the application was made that the motorcade may have travelled past the intersection of Maple and Inwood instead of the route it took on November 22, 1963.
That's my take on it anyway. I think the circle on "Oswald's" Enco city map of Dallas at the intersection of Maple and Inwood was added in later on after it was discovered that someone claiming to be Oswald had applied for a job there. If I have confused anyone with any of the above, please let me know.



Posts

: 1899


Join date

: 2013-03-13


Age

: 29


Location

: Melbourne, Victoria, Australia



Not at all confusing, Hasan. Thanks again.



Posts

: 244


Join date

: 2013-07-16



Thanks for this thread Hasan
Weiner Lumber Application,
" Has Auto"?  ... like he would be driving himself from Irving.
Employment Advert in 1979
ACCOUNTING ASSISTANT We need someone for varied accounting duties as receivables, collections, payroll etc Need 10 key by touch, type 50 wpm, pleasant working conditions with good benefits Contact Leon Mellow for interview Weiner Lumber Co , 2608 Inwood Rd Suite 212, 358-5194
https://www.newspapers.com/newspage/61143273/
From Cover Up:
"Framed and hanging on wall of Weiner Lumber Company
office. Application for Employment. 10/14/63"
Statement by Ruth that Lee said he was going to Tx Employment Comm.
but actually goes to the lumber office??? As a referral from the TEC?
Where did she drop him...that location would better of helped understand the confusion.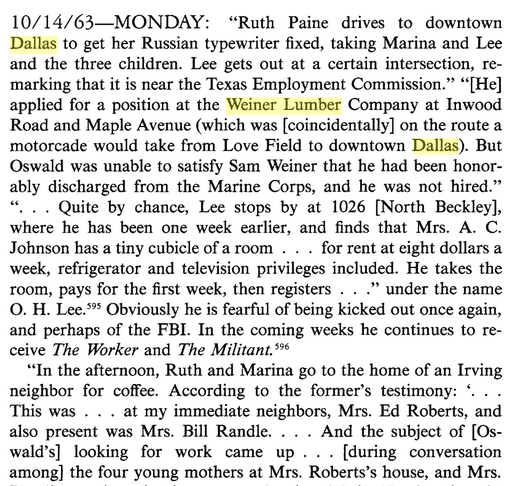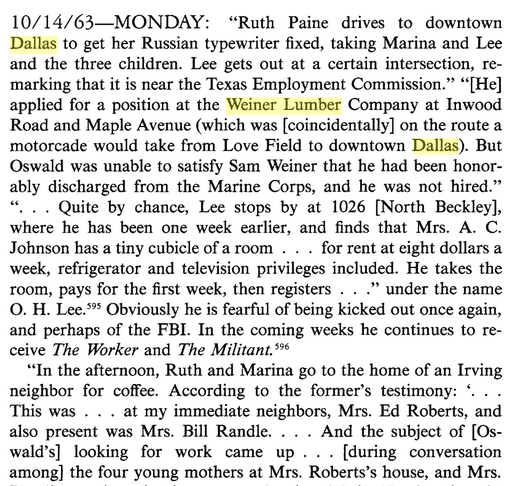 Claim is that owner Sam Weiner said he did not hire Lee
because Lee did not satisfy him that he was honorably discharged!!
Did Sam know who Lee was or was he always asking ex-servicemen to PROVE their status.
Sounds like Sam is telling story, hanging trophies in his office to boot.
Lee did have discharge papers and a card, those would have to be overlooked,
but here the claim is he did not have them... possibly spurious.
Did Lee not have his myriad of wallets available to him on this day?
I think Lee did show his papers/card and Sam is not completely truthful.
23:744 Armed Forces Report of Transfer or Discharge dated 10/12/59
Could Sam be in the know somehow that Lee had his honorable status changed?
Was Sam asking for his Honorable Discharge Certificate? Like you hang on the wall.
The "COVER UP" books citation of Lee Dannely for Lee Oswald being in Austin Texas at her desk, Selective Service Commission,
on Sept 25th 1963 Selective Service Commission Building comes from: XXIV H 729-734; Report, p. 386.
Report:
At his own request, Oswald was transferred from active duty to the Marine Corps Reserve under honorable conditions in September of 1959, 3 months prior to his regularly scheduled separation date, 137 ostensibly to care for his mother who had been injured in an accident at her work.138 He was undesirably discharged from the Marine Corps Reserve, to which he had been assigned on inactive status following his transfer from active duty, after it was learned that he had defected to the Soviet Union. In an attempt to have this discharge reversed, Oswald wrote to then Secretary of the Navy Connally on January 30, 1962, stating that he would "employ all means to right this gross mistake or injustice."
Lufkin, Texas: 19th Century Timber Town
Lufkin Industries was founded in the East Texas town of Lufkin, which itself was founded in 1882 as a stop on the Texas Railway that ran from Houston to Shreveport, Louisiana. It was named after Abraham P. Lufkin, a prominent Galveston merchant, politician, and friend of the railroad's president. As a railroad stop, the town quickly became a commercial center, and lumber became its main trade. Three men came to dominate the business: German immigrant Joseph H. Kurth, Sr.;
Sam Weiner, of German Jewish ancestry and raised in Mississippi
; and Georgia-born Simon Wood Henderson, Sr.
In 1890 they joined forces to form Angelina County Lumber Company, which ran a score of Texas sawmills.
The railroad was key, because the mills could no longer rely solely on a local supply of lumber, and had to have materials shipped in. But there developed a need for a local source of parts to repair the sawmills and locomotives. Mills might be forced to shut down for several days before parts and equipment arrived from cities hundreds of miles away.
Frank Kavanaugh, Sr., and his son, Frank Kavanaugh, Jr., operated a small
foundry
and machine shop in Rusk, Texas, and recognized that the Lufkin sawmills offered a better opportunity for business. In 1901 they decided to move their operation to Lufkin and wrote to Kurth to enlist his help in organizing the venture. Together they would line up investors and customers, and in February 1902, the Kavanaughs, Kurth, Henderson, and
Sam Weiner's brother, Eli Weiner, signed the company charter to create the Lufkin Foundry and Machine Shop, capitalized with $30,000
. In a subsequent board of director's meeting, Kurth was named the company's first president, with the elder Kavanaugh named vice-president. With 30 years of experience in the foundry and machine field, he also was named the company's first general manager. Within a matter of months, the company was doing business in three frame buildings, offering repair services, a foundry department,
blacksmith
department, bronze and brass castings, mill supplies, and the buying and selling of used machinery.
http://www.referenceforbusiness.com/history2/49/Lufkin-Industries-Inc.html
The Wiener Family
---
Samson Wiener and Caroline Fuerstheimer met aboard a ship crossing the Atlantic Ocean while both were immigrating to the United States from Germany in 1852. She was headed to Sallis, Mississippi, to live with her uncle. He was headed to Buffalo, New York, to live with his uncle, but instead he traveled south to court Fuerstheimer. They soon married and had eight children, Ike, William, Sam, Yetta, Tillie, Sophie, Rachel and Elias.
Elias "Eli" Wiener (1876-1957) moved to Keltys, Texas, at 14, to work as a clerk for the Angelina County Lumber Company. He eventually became the chairman of the board for the company and founded the Wiener Lumber Company, in Dallas, Texas.
His various business interests included other building materials, railroads and foundries.
In 1906, Wiener married Selma Lowenstein (1881-1953), who was born in New York City and moved to Waco, Texas, as a child. They had four children, Samson, Isabel, Carol and Selma. Wanting to live in a Jewish community, they moved to Shreveport, Louisiana, in 1916. In 1931, they moved to Dallas, Texas, where
Eli served as president of Temple Emanuel.
http://educationforum.ipbhost.com/index.php?/topic/4555-george-demohrenschildt/&page=3
I've found that Col. Lawrence Orlov founded a business in 1927 in Wink, TX, with Sam "Skipper" Weiner, founder of Texas Crude, Inc.:
Eli Wiener, Selma Wiener and Allen Berkman
Eli Weiner was a Communications Co. owner too.
Telephone service in Lufkin began in 1898 when Dr. Alexander Madison Denman and Judge Edwin James Mantooth of Lufkin connected their offices with the city's first telephone line. By 1900, Denman, Mantooth, and investor Eli Weiner opened a one-room telephone office with a 40 line switchboard to serve the city, creating Lufkin Telephone Exchange
Why would they discuss salary if he could not get the job.
Isn't that what the application starts with?
The route is not even close to the Weiner Lumber office.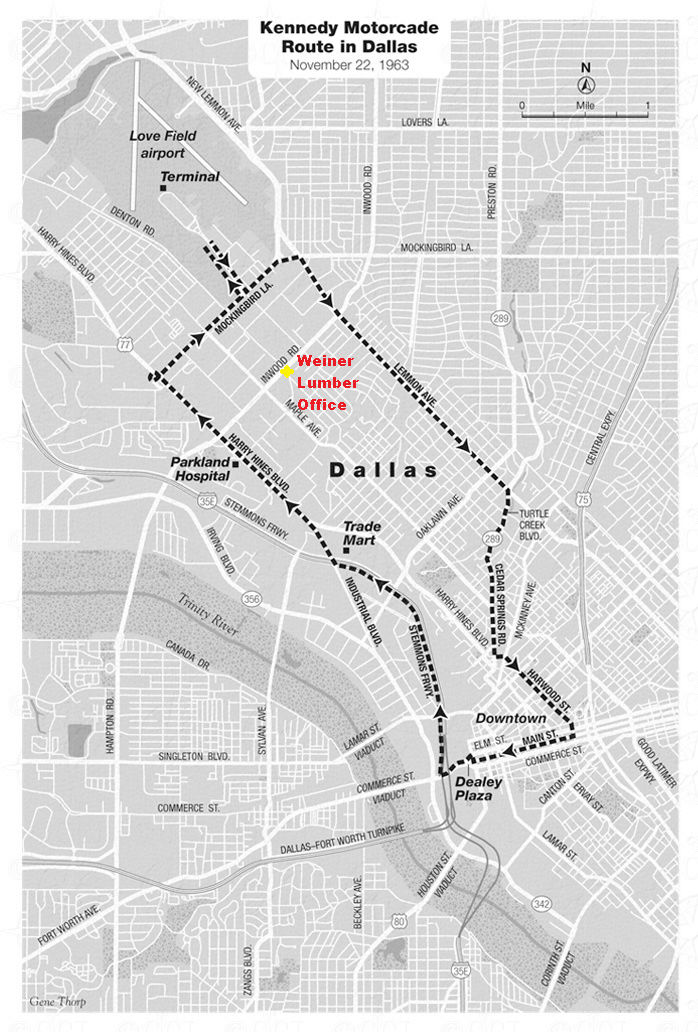 Anyway thought you would like all the Jewish angles or what ifs this job at Weiner Lumber Co. might have been used for a Jewish conspiracy.
Cheers, Ed
Kurth and Korth are just variations of the same name. FWIW.
_________________
Mixing Pop and Politics he asks me what the use is
I offer him embarrassment and my usual excuses
While looking down the corridor
Out to where the van is waiting
I'm looking for the Great Leap Forward
            Billy Bragg
----------------------------- 
Australians don't mind criminals: It's successful bullshit artists we despise. 
             Lachie Hulme            
-----------------------------
The Cold War ran on bullshit.
              Me
"God favors drunks, small children, and the cataclysmically stoned..." Steve King
"The worst thing about some men is that when they are not drunk they are sober." Billy Yeats
"You're not drunk if you can lie on the floor without holding on." Dino Martin
https://www.thenewdisease.space
Admin




Posts

: 4644


Join date

: 2009-08-21


Age

: 59


Location

: Orange, NSW, Australia



You're a bloody machine, Ed. I'll have to make some time to digest it all.



Posts

: 1899


Join date

: 2013-03-13


Age

: 29


Location

: Melbourne, Victoria, Australia



No worries Hasan

Yeah was wondering about that Greg. Good capper.

Similar topics
---
Permissions in this forum:
You
cannot
reply to topics in this forum