on Sun 05 Mar 2017, 11:36 pm
I previously wrote about the General Dynamics connections to the assassination in my essay "Oswald, Fred Korth, and the Office of Naval Intelligence." Aside from serving as deputy secretary of defence under the JFK administration, Roswell Gilpatric had served as an attorney for General Dynamics.  Despite what Bob McNamara claims in the following interview, it seems Gilpatric came close to quitting his position (like Fred Korth) because of the TFX scandal:
http://www.maryferrell.org/showDoc.html?docId=11857&search=Robert_McNamara+General+Dynamics#relPageId=316&tab=page
http://www.nytimes.com/1996/03/17/us/roswell-l-gilpatric-lawyer-and-kennedy-aide-dies-at-89.html
http://www.independent.co.uk/news/people/obituary-roswell-gilpatric-1343207.html
"Gilpatric was not always so dovish. He often took a hard line against the
Communist
threat, and was not above using force in other matters of international security. In the Eisenhower administration, Gilpatric headed a secret task force charged with "preventing Communist domination of Vietnam." Gilpatric argued forcefully for U.S. commitment to halt the Communist threat in
South Vietnam
.
[12]
In his position with the Kennedy administration, Gilpatric later signed off on the overthrow of the
Diem
government.
[13]
Gilpatric was also a member of a special task force which hatched
"Operation Mongoose"
, a dirty tricks campaign aimed at destabilizing the government of
Fidel Castro
in
Cuba
."
https://en.wikipedia.org/wiki/Roswell_Gilpatric
http://www.maryferrell.org/showDoc.html?docId=1156&search=Roswell_Gilpatric#relPageId=173&tab=page
"The documents showed that in February 1962, the Joint Chiefs of Staff and Deputy Defense Secretary Roswell Gilpatric approved a plan to 'lure or provoke Castro, or an uncontrollable subordinate, into an overt hostile reaction against the United States.'" 
https://goo.gl/lVtDDc
In essays such as "Who was behind the assassination? – Part 2" I laid out evidence pointing to the planners of the assassination wanting to provoke a war with Castro; so I think the above concerning Gilpatric is both relevant and significant. Gilpatric also served as under-secretary of the Air force from October, 1951 to February, 1953. This most likely would have been during the time both Nick McDonald and Gerald Hill served in the Air force:
http://www.legacy.com/obituaries/dallasmorningnews/obituary.aspx?pid=153027526
http://www.maryferrell.org/showDoc.html?docId=39&search=Mr_McDonald+Air+force#relPageId=304&tab=page
on Thu 09 Mar 2017, 11:48 pm
on Sat 11 Mar 2017, 11:37 pm
Since the following is related to the General Dynamics' connections to the assassination, I thought I'd post it here instead of giving it a separate thread. A Hiram Conway who worked as a tool inspector for General Dynamics in Fort Worth, Texas; and who testified before the WC, said he had known Oswald when Oswald was a child and described him in an unfavourable light:
http://www.maryferrell.org/showDoc.html?docId=36&search=Mr_Conway+vile+nature#relPageId=94&tab=page
Note how Jenner curiously goes off the record right after Conway tells him about his job at GD. Granted Oswald's behaviour could be explained by Asperger's syndrome, but I don't trust the guy. I find it very interesting that there was also a Hiram Conway who worked at the Leslie Welding Company in Fort Worth where Oswald himself was employed after his return from the Soviet Union:
http://www.maryferrell.org/showDoc.html?docId=10406&search=Hiram_Conway#relPageId=291&tab=page
The following is from my essay "Oswald, Fred Korth, and the Office of Naval Intelligence."
"Before concluding this essay, there are several other individuals of interest whom I would like to discuss. Let's begin with former FBI agent, I. B. Hale. Hale was evidently a close associate of FBI director, J. Edgar Hoover, and was the chief of security at General Dynamics in Fort Worth, Texas (see
here
and
here
). Hale's wife (Virginia Hale) worked at the Texas Employment Commission in Fort Worth; and had helped Oswald obtain his job at the Leslie Welding Company in Fort Worth following his return from the Soviet Union (see
here
). I believe it is quite likely that Fred Korth had put Oswald in touch with Virginia Hale through her husband…"
Although they may not have been the same person, the two Hiram Conway's surely must have been related to each other. 
on Sun 12 Mar 2017, 9:14 am
Hasan, I think there might be another explanation for going off the record.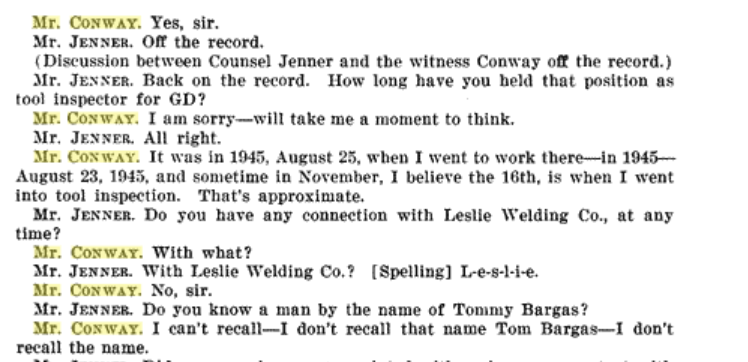 It looks to me like Jenner assumed he was interviewing the guy from Leslie Welding, and was thrown for a loop when he said he worked for GD.
Bargas was the foreman who hired Oswald at the welding company. But if Conway is telling the truth, he couldn't be the same guy if he had been with GD since 1945.
What does seem strange to me is that Jenner doesn't ask if he and the other Hiram are related. I think it's a fair assumption that this was asked off the record though, and you have to wonder why the question wasn't repeated
on
the record, unless Jenner feared a relationship might sound a bit too conspiratorial. 
The FBI interview with the other HC had it's own little wrinkles. 
The background information contained in the document from the Leslie application form is full of inaccuracies - explicable as the kind of shit anyone might put on an application to help get the job. What I don't understand is that there seems to be possibly two sets of records, with slightly different information.  
Maybe someone more familiar with how such things work in the US can help put an innocent spin on it? Or am I aiding and abetting the 2 Oswald Nutters? 

_________________
Mixing Pop and Politics he asks me what the use is
I offer him embarrassment and my usual excuses
While looking down the corridor
Out to where the van is waiting
I'm looking for the Great Leap Forward
            Billy Bragg
----------------------------- 
Australians don't mind criminals: It's successful bullshit artists we despise. 
             Lachie Hulme            
-----------------------------
The Cold War ran on bullshit.
              Me
"God favors drunks, small children, and the cataclysmically stoned..." Steve King
"The worst thing about some men is that when they are not drunk they are sober." Billy Yeats
"You're not drunk if you can lie on the floor without holding on." Dino Martin
https://www.thenewdisease.space
on Sun 12 Mar 2017, 11:30 pm
Thanks for your input, Greg. IMO, there is something rotten about this whole thing (you know how I feel about these so-called coincidences).
on Sat 18 Mar 2017, 11:47 pm

Permissions in this forum:
You
cannot
reply to topics in this forum