on Mon 06 Nov 2017, 11:13 pm
The FBI interviewed the Secretary of Warren Easton High. The result of that interview contained the followed errors
- Lee had gone to Riglio Elementary in Ft Worth.
-Lee had previously gone to Byron Junior High PS44 in New York.
-Mr and Mrs Oswald had lived at 126 Exchange Pl.
-Mr and Mrs Oswald were both employed as store managers.
-Lee had no brothers and two sisters.
-Marguerite spelled as Margret.
------------------
The following correct information is also supplied:
-Addresses, dates and previous schools attended all correct, even though misnamed in two instances.
-Marguerite at least was a store manager.
-Lee's date of birth correct Oct 18, 1939, height correct 5' 5", weight correct 135 pounds
-Correctly identifies "abnormal left ear drum".
-Correctly identifies favorite and least favorite school subjects
-Correctly identifies reading and outdoor sport as favorite recreational activities.
-------------------
Important note: 
the file also has this "she stated that the file further shows that the school received a request on September 18, 1956 to forward Oswald's file to Arlington Senior High School Fort Worth.
"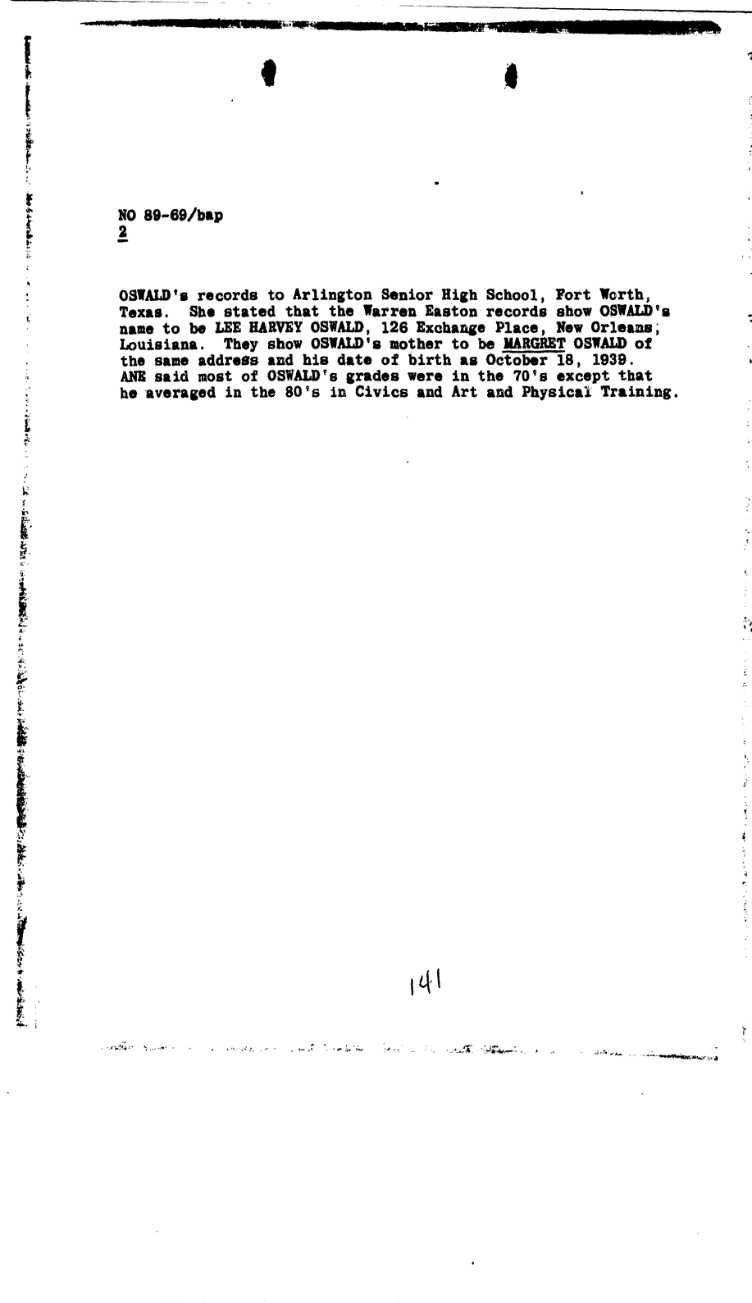 _________________
Mixing Pop and Politics he asks me what the use is
I offer him embarrassment and my usual excuses
While looking down the corridor
Out to where the van is waiting
I'm looking for the Great Leap Forward
            Billy Bragg
----------------------------- 
Australians don't mind criminals: It's successful bullshit artists we despise. 
             Lachie Hulme            
-----------------------------
The Cold War ran on bullshit.
              Me
"God favors drunks, small children, and the cataclysmically stoned..." Steve King
"The worst thing about some men is that when they are not drunk they are sober." Billy Yeats
"You're not drunk if you can lie on the floor without holding on." Dino Martin
https://www.thenewdisease.space

Permissions in this forum:
You
cannot
reply to topics in this forum