Social bookmarking










Bookmark and share the address of REOPENKENNEDYCASE on your social bookmarking website

Bookmark and share the address of REOPENKENNEDYCASE on your social bookmarking website
Affiliates
Page 2 of 2 •
1, 2
My guess, Vinny, is that he played a small unwitting "need to know" part. He was probably a "poor dumb cop", a dispensable foot soldier, used by the higher up conspirators for their own ends.
In other words, I believe his role in the Tippit subplot was similar that of LH Oswald in the main plot.
Bill Kelly wrote a good article, "A New History Based Model of the Assassination" in which he described the training of US intelligence officers. In the following passage he quotes from an account written by one such officer, Joseph B Smith, of what the renowned intelligence mentor Paul Linebarger taught Smith and his fellow students.
"'I want you all to go out and get a copy of David Maurer's classic on the confidence man. It's called 'The Big Con,' and its available now in a paperback edition,'" Paul continued. "'That little book will teach you more about the art of covert operations than anything else I know. Your job as an intelligence officer and the con man are identical...'"
"'Maurer's book will give you a lot of ideas on how to recruit agents, how to handle them and how to get rid of them peacefully when they're no use to you any longer. Believe me, that last one is the toughest job of all.'"
"We were all soon reading 'The Big Con.' The tales it told did, indeed, contain a lot of hints on how to do our jobs. For me one sentence seemed to sum it all up beautifully, 'The big-time confidence games,'wrote Maurer, 'are in reality only carefully rehearsed plays in which every member of the cast EXCEPT THE MARK knows his part perfectly.'" 
http://jfkcountercoup.blogspot.com/2017/02/a-new-history-based-model-of.html



Posts

: 327


Join date

: 2013-07-16



Thanks Goban,

I do believe the Jackson dispatch Tippit (78) disturbance call to 400 Block E Tenth is crucial in understanding some of this.

Either all coincidental and absolutely nothing to do with the assassination -or- there was no such disturbance call and Jackson sent Tippit there on that pretext, but it was really an ambush to further frame Oswald.


It's interesting.
Thanks Goban. So basically you believe he too was a patsy.

There are some who believe he was an active part of the plot.Joe McBride claims that he was likely the Grassy Knoll shooter who fired the fatal head shot. That his next assignment after shooting Kennedy was to shoot Oswald in Oak Cliff.However he was double crossed and ended up being killed himself.

One of the early researchers stated in his book that Tippit was the Sixth Floor Shooter.



Posts

: 643


Join date

: 2013-08-27



Interview With Murray Jackson.





Posts

: 643


Join date

: 2013-08-27



Much about the Tippit case depends on how accurate the radio transcripts are. It would be very useful to discover whether the tape recordings have been altered.

Regarding the scene of the murder, Ruby stated that Joyce McDonald stayed at 410 1/2 Tenth. Unfortunately, he didn't specify East or West. 410 East Tenth was the house one of the Davis girls said 'he (Tippit) lived in'.

According to the William Drenas article 'Car #10 Where Are You?' Murray Jackson was a close friend of Officer Tippit. If we take the radio transcript at face value (difficult to do, since Nelson ostensibly disobeyed an instruction, although he seemed blissfully unaware), Jackson appears to show a disproportionate interest in what Tippit was doing.

Could it be he was asked to check on Oswald's arrival at the cinema and call in on a  telephone?

I can't envisage the Tippit killing being unrelated to the assassination.



Posts

: 93


Join date

: 2013-08-27



Thanks Redfern,
Much about the Tippit case depends on how accurate the radio transcripts are. It would be very useful to discover whether the tape recordings have been altered.

Even in my short time researching the Tippit murder, I have to say the many statements by various witnesses, SS reports, and Hospital documents all seriously challenge or at least undermine the timeline on the official police dispatch recordings and log from 12.54 onwards until Oswald's arrest at the Theatre. It appears like the log has intermittently been altered during that period. So the question would be why would that be done and by whom.
As stated before, in my opinion the 400 block E Tenth disturbance call is a crucial piece of evidence.
Quoting from a 1967 interview with dispatcher Murray Jackson:
We had received a call from a citizen. They called us on the telephone and the call sheet came - came to me and there was a disturbance in street in the 400 block of East 10th.
We know that someone has telephoned into Dallas Police around or just prior to 1.00pm for the above call.
This radio dispatch call to 78 was made between 1:02:00pm 1:02:30pm. This call to 78 is claimed to have been erased from the recording. 
That 30 seconds probably included Tippit's response to dispatch. That's important
excerpt from a letter written to Joachim Joesten concerning a Shirley Martin interview with Hugh Aynesworth, Dallas Morning News reporter.

The unknown citizen's call at 1:02 or 1:03 does not appear in the transcript of police radio messages. 


On the audio recording at precisely 1:02 there is 30 seconds of noise, indicating an erasure. 


About a minute later, at 1:03, the dispatcher attempted to reach Tippit and got no response.

Dispatcher to Tippit at 12.54pm
"you'll be at large for any emegency that comes in"
Tippit reports he is at Lancaster and Eighth.
Tippit was killed not more than 3 1/2 blocks away near 10th and Patton St. sometime after the last communication back to base at 12.54pm.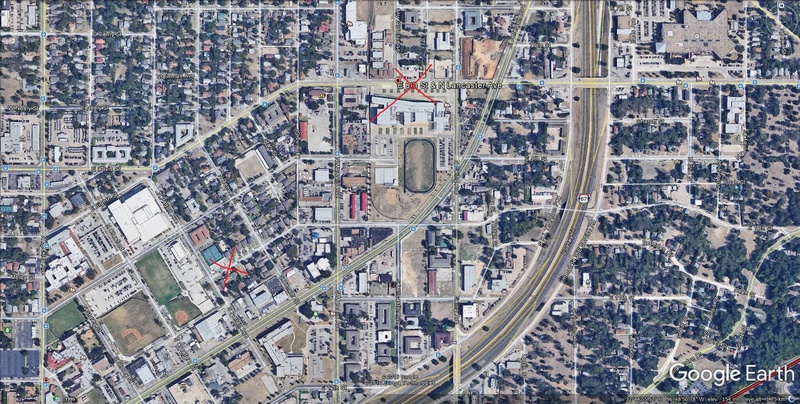 So no response from Tippit at 1.03-most likely already out of the car.
Dallas Police Unit 550 Car 2 was driven to the scene of the Tippit murder by Sgt. Gerald Hill. He was accompanied by Bud Owens, Dallas Police Department, and William F. Alexander, Assistant D.A. for Dallas. Unit 550 Car 2 reported over the police radio that the shells at the scene indicated that the suspect was armed with a .38 caliber automatic. 38 automatic shells and 38 revolver shells are distinctly different.
After much confusion in the Oak Cliff area the Dallas Police were finally directed to the Texas Theater where the suspect was reported to be. Several squads arrived at the theater and quickly surrounded it. At the back door was none other than William F. Alexander, Assistant DA, and several Dallas Police officers with guns drawn. 
McWatters WC testimony:




Senator COOPER - Was the passenger that got on near Murphy Street the same passenger that you later have testified about who told you that the President had been shot in the temple?

Mr. McWATTERS - Well, they told me later that it was, but at the time they didn't tell me.

Senator COOPER - Who didn't tell you?

Mr. McWATTERS - The police didn't.




You can't make this shit up-Oh wait they already have.
Page 2 of 2 •
1, 2
---
Permissions in this forum:
You
cannot
reply to topics in this forum