Guest

Guest

on Sun 10 Nov 2013, 10:43 pm
William Whaley and Cab 36
The official story maintains that Oswald, after leaving Cecil McWatter's bus at 12:44pm, walked a few blocks up to the Greyhound bus station and got into cab number 36 that was driven by
William
Whaley. The time was now "officially" 12:47pm. Whaley in his Warren Commission testimony stated that he thought Oswald looked like a "wino" who had been "off his bottle for about two days." The reason for this, Whaley continued was, "Just the slow way he walked up. He didn't talk. He wasn't in any hurry. He wasn't nervous or anything."  Sounds just like every "wino" I've ever met - none of them ever seem in a hurry.  
After Oswald got in the cab an old woman appeared and said to Whaley, "Driver, will you call me a cab down here?" Oswald then, according to Whaley "…opened the door a little bit like he was going to get out and he said, "I will let you have this one," and she says, "No, the driver can call me one." Neither the Dallas Police Department nor the FBI ever bothered tracking down this woman who could have verified Whaley's account of the taxi ride even though it would have been quite easy to do so by simply checking taxi manifests of other taxi drivers who picked up passengers at the Greyhound bus depot that afternoon. 
William
Whaley's own manifest puts Oswald in the cab at 12:30pm. This we know is impossible because the "official" story tells us he's shooting the President at this time. The reason for the 12:30pm pick-up Whaley maintained was because he "always" approximated the times. He worked in slots of 15 minutes. So each cab ride would be logged as 00, 15, 30 or 45. The problem with this explanation is the fact that Whaley's other trips that day were entered at 6:20, 7:50, 8:10, 9:40, 10:50, and 3:10. It was a problem that was, like many other problems, simply ignored.
When Oswald was in the taxi his work shirt made quite an impression on the driver. This turned out to be a God-send because the only other witness that could put Oswald in that shirt up until that point in time was Mary Bledsoe and a corroborating identification certainly came in handy. The only problem with the identification of the shirt was the awkward fact that Whaley said Oswald was not just wearing a jacket, he was actually wearing two. The Commission was working from the premise that Oswald was in fact wearing no jacket. The jacket problem was ignored. We are asked to believe that Whaley remembered the shirt but he was mistaken when he remembered that Oswald was wearing TWO jackets.
Whaley then drove Oswald over to Oak Cliff and, according to his testimony of March 12th, 1963, dropped him at the 500 block of North Beckley. The Warren Commission became incredibly preoccupied with the timings involved in this cab ride because Oswald needed to be at his rooming house at 1:00pm so he could set off on time for his rendezvous with Officer J.D. Tippit. Unfortunately, in
William
Whaley's first round of testimony that he gave in Washington D.C. he threw a spanner in the works. He stated under oath that the journey from the Greyhound station to the 500 block of North Beckley took "nine minutes." The cab driver of 37 years was adamant that the journey took nine minutes. The Warren Commission had to get Oswald from the bus to the Greyhound station between 12:44pm and 12:47pm. Three minutes to walk three blocks. Remember Whaley stated that Oswald "slowly" walked up to the taxi so it gives the appearance that Oswald was quite casual in his approach. If Oswald did make the three blocks whilst slowly walking from Elm Street to Lamar in three minutes then a nine minute taxi ride to Oak Cliff would have dropped him at the 500 block of Beckley at 12:56. He now has to walk 5 blocks in less than 4 minutes. The Warren Commission got around this by getting Whaley back on the stand on April 8th, 1963. Whaley now u-turned on his testimony that he gave the previous month. The Commission, prior to this "new" testimony got Whaley to accompany a Secret Service driver and do a "new" set of re-enactments. The journey now took, not 9 minutes, but "a little more than 5 minutes." Not only did the "new" re-enactments come in significantly lower than the "old" set that Whaley had performed with the FBI but the location where Oswald got out had also changed. Whaley now claimed that Oswald got out at the 700 block of North Beckley. Oswald was now in the taxi for three and half minutes less time AND he was closer to the boarding house. Job done. Or so it would seem.
Much of the above has already been quite heavily documented and talked about by other authors and researchers. I am not alone in my belief that the Oswald cab ride needs re-evaluating. I simply do not believe it given the current evidence we have.
The story changed dramatically over a period of 5 months and I believe the Warren Commission counsellors suborned perjury from
William
Whaley to help their case against Oswald and continue to ignore other witnesses who saw something different that day. 
Here is the real reason why I don't believe Whaley's story.
When Oswald was arrested on the 22nd he was interrogated extensively by Will Fritz. According to Fritz's notes Oswald claimed he left Dealey Plaza by bus. The DPD by this point had the bus transfer in their possession although it had took them two hours to find it on Oswald's person. 
The story was taking the form of an escape by bus.
On the 23rd when it became apparent that the traffic slowed Cecil McWatter's bus at the Elm/Houston intersection and it wouldn't get to Oak Cliff in time, Oswald was interrogated about his journey again. From Fritz's typed report that is included in CE2003 Oswald was taken from his jail cell and brought to interview:
"
On November 23 at 10:25 AM
[emphasis mine] Oswald was brought from the jail for an interview. Present at this time was FBI agent Jim Bookhout, Forrest Sorrells, special agent in charge of Secret Service, United States Marshall Robert Nash, and homicide officers. During this interview I talked to Oswald about his leaving the building, and he told me he left by bus and rode to a stop near home and walked on to his house. At the time of Oswald's arrest he had a bus transfer in his pocket. He admitted this was given to him by the bus driver when he rode the bus after leaving the building.
One of the officers had told me that a cab driver,
William
Wayne Whaley, thought he had recognized Oswald's picture as the man who had gotten in his cab near the bus station and rode
to Beckley Avenue
. I asked Oswald if he had ridden a cab on that day, and he said, "Yes, I did ride the cab. The bus I got on near where I work got into heavy traffic and was trawling, too slow, and I got off and caught a cab." I asked him about his conversation with the cab driver, and he said he remembered that when he got in the cab a lady came up who also wanted a cab, and he told Oswald to tell the lady to "take another cab."
This event on the 23rd where Oswald admitted getting off the bus and into the cab is backed up by the report of Jim Bookhout who attended the first interview on the Saturday that took place between 10:25am and 11:33am (page 621 of the Warren Report.) Bookhout wrote, "Following his departure form the Texas School Book Depository, he boarded a city bus to his residence and obtained a transfer upon departure from the bus. He stated that officers at the time of arresting him took the transfer out of his pocket….Oswald stated that it wasn't exactly true as recently stated by his that he rode a bus from his place of employment to his residence on November 22, 1963. He stated actually he did board a city bus at his place of employment but that after about a block or two, due to traffic congestion, he left the bus and rode a city cab to his apartment on North Beckley. He recalled that at the time of getting into the cab some lady looked in and asked the driver to call her a cab. He stated that he might have made some remarks to the cab driver merely for the purpose of passing the time of day. He recalled that his fare was approximately 85 cents."
So, in summary Oswald was brought to the interview room at 10:25am on Saturday morning and was immediately asked about his journey from Dealey Plaza to Oak Cliff. He reaffirms the bus ride. Fritz claims that "one of the officers had told him that a cab driver,
William
Wayne Whaley, thought he recognized Oswald's picture as the man who had gotten in his cab." Oswald then changes his story and admits to the cab ride.
Now we have a major problem. According to the report of T.L. Baker (page 91 of CE2003):
"At 12:30 AM [error – should say PM] Montgomery and Johnson were instructed by Lt. Wells to go to the Oak Cliff Cab Company at Davis and Tyler and contact a driver by the name
William
Scoggins and bring him to the City Hall. When they arrived at this location, they were advised that he was standing by at the cab station at the Adolphus Hotel at Commerce and Akard. The supervisor at this cab station said there was another driver we should talk to by the name of Bill Whaley. This driver was contacted, and they went to the cab company office at 610 South Akard and picked him up and brought him to the City Hall also."
According to the report of C.N. Dhority (page 105 of CE2003):
"At 2:15 PM I was present in the Assembly Room when cab driver,
William
W. Whaley, 619 Pine Street, Lewisville, Texas, identified Lee Harvey Oswald as the man he picked up at the Greyhound Bus Station, November 22, 1963, abut 1:00 PM and carried to the 500 Block of North Beckley. Mr. Whaley identified Lee Harvey Oswald as #3 man in four man line up. Mr. Whaley came up to the third floor and gave an affidavit in the Auto Theft Office."
So we know that Whaley was picked up after 12:30pm on the 23rd of November. He attended the line-up with Scoggins at 2:15pm and also gave his affidavit.
It's strange that in Baker's report Lt. Wells sends both Montgomery and Johnson to pick up
William
Scoggins from Oak Cliff Cab and Co. and the supervisor told them that another cab driver (
William
Whaley) picked Oswald up. Strange because Johnson, in one report he filed, only remembered picking up Scoggins:
"Saturday, November 23, 1963 at approximately 12:30pm Lt. Wells told my partner L.D. Montgomery and me to go to Oak Cliff Cab Co. in Oak Cliff and pick up a cab driver by the name of W. W. Scoggins. He said this man was a witness to the shooting of Officer J. D. Tippit. When we arrived at the Cab Co. at Davis and Tyler in Oak Cliff, we were advised that Mr. Scoggins was on duty; that at that time be was at the Adolphus Hotel. Since us were going to bring Mr. Scoggins to city hall, he was advised by radio to meet us at 610 S. Akard, the main office of the Cab Co.
We picked Mr. Scoggins up at 610 S. Akard and brought him to City Hall. We arrived at city hall at approximately 1:30 pm."
And then he files a separate report to state that he went on the same trip to pick up
William
Whaley:
"I returned to duty at 8:00 am Saturday, November 23, 1963. I remained in the office until approximately 12:30 pm. At this time my partner, L. D. Montgomery, and I were told by Lt. Wells to go to 610 S. Akard Street and pick up a cab driver by the name of Bill Whaley. He said this man had hauled Lee Harvey Oswald in his cab on Friday. We went to 610 S. Akard and picked up Whaley and returned with him to City Hall.
We got back to City Hall at approximately 1:30 pm."
Leslie Montgomery's report (page 120 CE2003) confirms Baker's report that Lt. Wells sent him and Johnson to pick up Scoggins at 12:30pm and were informed about Whaley by the Cab supervisor when they got there:
"At 12:30 pm on November 23. 1963 Det. Johnson and myself were told by Lt. T.P. Wells to go to the Oak Cliff Cab Co. at Davis and Tyler Street and contact a driver by the name of W. W. Scoggins and bring him to the city hall.
Upon our arrival at the cab company we were advised that this driver was standing by the cab stand at the Adolphus Hotel at Commerce and Akard. This driver Scoggins was advised to meet us at the Yellow Cab Co. office a 610 S. Akard. Upon our arrival at 610 S.Akard we contacted W.W. Scoggins. The cab supervisor on duty at 610 S. Akard told Det. Johnson and myself that there was another driver on duty at this time that had said he had picked Oswald up at the Greyhound Bus Station. We advised the supervisor that we needed to talk with this driver also. 
The supervisor contacted the driver and had him to report to the office at 610 S. Akard. The driver, BillWhaley, came to the office and Det. Johnson, W.W. Scoggins, Bill Whaley and myself returned to the city hall to our office at 1:30pm."
So what is this telling us? That Lt Wells sent Montgomery and Johnson to pick up Scoggins at 12:30pm. No mention ofWhaley at this point. When they arrive to pick up Scoggins the Cab and Co. supervisor tells them that another cab driver recognised Oswald, so they request to see him too. 
William
Whaley's WC testimony confirms this:
Mr. BALL. Later that day did you-were you called down to the police department?
Mr. WHALEY. No, sir.
Mr. BALL. Were you the next day?
Mr. WHALEY. No, sir ; they came and got me, sir, the next day after I told my superior when I saw in the paper his picture, I told my superiors that that had been my passenger that day at noon. They called up the police and they came up and got me.
Both Scoggins and Whaley are now on their way to City Hall. But a question remains. If the DPD weren't informed about the existence of
William
Whaley until after 12:30pm on the 23rd then how the hell did Fritz know about the cab ride at 10:25am? Fritz knowing about the cab ride was the catalyst for the change in Oswald's story according to his own report and this was backed up by the report of Jim Bookhout.
If one looks at the original handwritten affidavit that was given by
William
Whaley after 1:30pm on the 23rd November, there is nothing in there about the old woman asking the cab driver to call her a cab. This part of the story only appears in Whaley's typed statement. * Edit: It appears as an add on to a SECOND handwritten statement prepared by Whaley.  The whole thing just gets more and more curious by the second. Was the old woman added to the story because Oswald "talked" about the woman in his 10:30am interrogation? Was it included should another "witness" be required to further bolster the story but was in the end not pursued?  Was the "elderly woman" at the cab an alternative Mary Bledsoe scenario should the bus scenario not play out as anticipated?
Will Fritz's ESP knew no bounds. He knew he had his man before he had any evidence. He knew where Oswald lived before it was officially discovered. He knew he took a cab 2 hours before the cab driver came forward. 
William
Whaley said in his second round of testimony (the one where his story changed significantly) that "a good defense attorney could take me apart. I get confused." How right he was. In all likelihood, Lee Harvey Oswald wasn't in
William
Whaley's cab. Not given the evidence that we have. And on that basis let the chips fall were they may.
I quoted Aldous Huxley when I started this post "These," he said gravely, "are unpleasant facts; I know it. But then most historical facts are unpleasant." If the facts presented here are unpleasant to anyone's pet-theory then that's just too bad. If people want to be "convinced" by the poor evidence that exists for the cab ride and ignore the evidence that says that it didn't happen, then that's down to individual choice.  But it doesn't make the evidence go away.
I don't buy any of it. And I can back my disbelief up every step of the way.
From the testimony of Jim Bookhout when Oswald's story changed and he admitted on day 2 that he got off the bus and into the cab:
Mr. STERN. Had he been confronted by the driver of the taxicab, or been told that they had located the driver of the taxicab before he changed his story, or did he volunteer the story of the taxi?
Mr. BOOKHOUT. I don't recall specifcally whether he was confronted with that or not.
Mr. STERN. All right. 
Quite convenient memory lapse there. And great probing from counsel.
Further thoughts:
William
Whaley's story changed dramatically between his March testimony and his April testimony. Which one is truthful and why? E.g. did he pick Oswald up at 12:30pm, 12:47pm or 12:48pm? Did the journey take 9 minutes or 5 minutes? Did he drop him at the 500 block of North Beckley or the 700 block? did he see which direction Oswald walked after getting out the cab or didn't he?
2. Where is the evidence that a call was made to the DPD by the Oak Cliff Cab Company from
William
Whaley's supervisor either prior to the 10:25am interrogation or between the interrogation (10:25am-11:30am)? Who took the call and where was it reported and who to?
3. Montgomery and Johnson were sent to the Oak Cliff Cab Company at 12:30pm on the 23rd to pick up
William
Scoggins. Are the reports of T.L. Baker and Montgomery incorrect when they state that the supervisor told them when they arrived at the Taxi company of the existence of
William
Whaley and his important Oswald encounter? 
4. Where did the address of 605 Elsbeth come from in Jack Revill's list of TSBD employees that he compiled mid-afternoon of the 22nd November?
5. Why did Warren 'Butch' Burroughs claim that Oswald entered the Texas Theater before 1:07pm?
6. A reasonable explanation is needed for the T.F. White story
7. As is Will Fritz's knowledge of the 1026 North Beckley address a few hours prior to the DPD and Irving Police actually finding out about it
1. To ensure they had an accomplice-free storyline
2. They needed a witness who would recognise Oswald as Oswald and not just a face in the crowd. Enter Mary Bledsoe. Not only was it alleged that she knew him (although once again we have virtually no proof that this was the case) and that she recognised him but she also put the shirt on his back that was all important, even if it did have holes and no buttons prior to the scuffle in the Theater.
The cab ride was needed once it was realised that McWatter's bus was stuck in traffic for a long period of time. So on the morning of the 23rd
William
Whaley appears into the storyline, after, we are told, Fritz throws the cab-ride story at Oswald in the 10:25am interrogation. Oswald then obligingly changes his story, even though Fritz must have been "bluffing" because the information about the cab driver had yet to be discovered according to the DPD reports.
The Warren Commission then tried to fit the square peg into the round hole by squeezing Oswald into a 12:30am cab ride that was changed to a 12:47 or 12:48pm timeline, where the jacket he was wearing disappears, that dropped him off at the 700 block of North Beckley even though it was documented as the 500 block, and got him there in 5 minutes even though the journey originally took 9 minutes.
Also, it's funny that in the interrogation Oswald confirms that he "rode in the cab" and also that an old lady appeared and asked the driver to call another cab for her. Other than the fare this is all he says about the taxi. Look at
William
Whaley's handwritten affidavit and it simply mentions the cab journey. Look at the typed affidavit and the story of the "old lady" appears that perfectly corroborates Oswald's story in the interrogation room.
Tom Scully found evidence of a possible relationship between Montgomery and Whaley that I will dig out a little later but these types of relationships between witnesses and the DPD are very common in this case.
The starting point in working out the key to the Whaley story is reviewing his statements (written versus typed) before reading his WC testimony.  Whaley's testimony sits in the category of the worst there is in the twenty-six volumes.  This was a guy who would say his own mother shot the President if he was told to.
Guest

Guest

on Sun 10 Nov 2013, 10:57 pm
Two different written statements: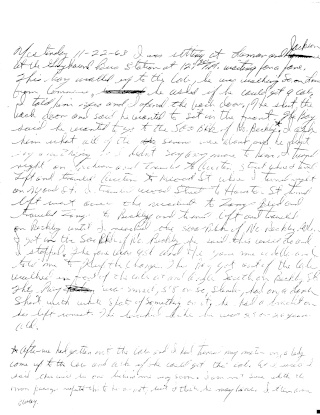 on Sun 10 Nov 2013, 11:52 pm
http://www.wikitree.com/wiki/Whaley-18
From Whalley's daughter,
"I guess Dad's "15 minutes of fame" came when he drove the cab that tookOswald from downtown Dallas to Oak Cliff after he supposedly killed Kennedy. Daddy always said that is was impossible for him to have done it, because the FBI had Daddy downtown one Sunday afternoon and they hadto run through the pattern Oswld took about six times before they could do it in the time Oswald would have had to do it in and this was on aSunday afternoon with no traffic on the streets or sidewalks. Not tomention the thousands that lined the streets that day. I don't supposewe will ever learn the real truth in our lifetime."
Guest

Guest

on Mon 11 Nov 2013, 11:00 am
Tom Scully wrote:

https://reopenkennedycase.forumotion.net/t462-roland-bud-culligan-claimed-he-followed-an-ea-order-to-execute-three-dallas-shooters

............

On 16 July, 2007, Lee Forman posted that he could not locate Culligan and a list of questions he wanted to ask is he had located him.:

http://educationforum.ipbhost.com/index.php?showtopic=10360&page=2#entry110272

Dallas taxi driver Willaim Whalley made the same move, and there is no record of his service and Navy Cross award reporters quoted him claiming in November, 1963.

https://familysearch.org/pal:/MM9.1.1/FX98-Z5G

Whaley's parents married on 3 July, 1907, eleven months before he was actually born on June 19, 1908.

Whaley claimed a birthdate of 19 June, 1905, and his mother was born in January, 1889 and got married to his father, Oscar Whaley in 1907, U.S. Census records of 1910, 1920, 1930, and 1940 are consistent in documenting that Whaley was born in 1907 at the earliest.

There is no evidence he was awarded the Navy Cross as his name is not included in the roster or citations of WWII Navy awardees of that honor.:

http://www.homeofheroes.com/valor/02_awards/index_nx/index-NXw.html

Here are the citations in chrono order:

http://projects.militarytimes.com/citations-medals-awards/search.php?medal=3&service=&conflict=&term=&page=92

Iwo Jima started 19 Feb.  and ended 26 Mar., 1945.

Denton Record Chronicle, Friday, December 06, 1963, Page 5    http://newspaperarchive.com/denton-record-chronicle/1963-12-06/page-5

1945 Dallas City Directory describes Wm W Whaley with wife Nellie. His occupation is dispatcher at the cab company.

Four U.S. census age recordings, all that are available, a family submitted birth date for DNA match projects, and his parents marriage record with the consideration that his mother would have been 16 years and 5 months old if

William

Whaley had really been born June 19, 1905. Would you feel more comfortable buying a used car from me, or from Whaley?

WC insisted on a photo of his taxi four months after the reported Oswald ride, and of his passenger manifest with any ole time written on the relevant entry but there is no employemt or military record of Whaley, no Cabbie license, no Texas drivers's license, no D.O.B. background info.

What happened to 37 years, driving a cab? Did they have cabs in the Pacific War theater? Records indicate Whaley was born June 19, 1908. The 1945 Dallas City Directory describes Whaley as a cab company dispatcher.

There are 55 years between 1908 and 1963. Assuming a generous 16 years as a youth not driving a cab, there are 39 years, minus years serving in the Navy and time spent as a dispatcher. Why was this description so important to

William

Whaley? Consider that Whaley is the only source of so much of what is now ingrained in some minds. He describes a calm, cold, lone nut who would have given up his seat to an old lady and waited for the next taxi to come along. Mr. Ball could only dream that Whaley had supported his testimony with a call to his dispatcher to request a cab as the old lady assumed he had.

Cemetery, Denton Co. Cemeteries of Tx Gloria B. Mayfield

http://www.cemeteries-of-tx.com/Etx/Denton/cemetery/OHall%20T-Z.htm

Old Hall Cemetery is large so may take some time to load. .... Thomas, Louis L. 12 Feb 1908, 13 Sep 1966, 23a, h/o Martha J. (Wallace) Thomas. s/o

William

L. ......

Whaley, William W. 19 Jun 1905, 18 Dec 1965,

24d, h/o Nellie Faye Wilson ...

Gil Jesus made a case about the accuracy and consistency of Whaley's testimony.:

http://www.giljesus.com/jfk/cab_ride.htm
The Warren Commission appeared to have no knowledge of James Herbert Martin's
bad conduct discharge
from the US Navy or of his FBI rap sheet listing his convictions, one year suspended prison sentence, two years federal probation, extended to five years after he committed additional crimes. The
Secret Service literally handed
Marina Oswald, her children, and her anticipated revenue stream over to Martin's custody and management. His birth year on
his original FBI report was 1925
instead of the correct year, 1927.:
Guest

Guest

on Mon 11 Nov 2013, 10:41 pm
William Whaley affidavit Number One

"Yesterday, 11-22-63, I was sitting at Lamar and Jackson at 12:30AM at the Greyhound Bus Station waiting for a fare. This boy walked up and asked if he could get a cab.  I told him yes and opened the back door.  The boy closed the back door and said he wanted to sit in the front.  The boy said he wanted to go to the 500 block North Beckley.  I asked him what all the sirens were about and he didn't say anything so I didn't say anything to him.  When we got to the 500 Blk N. Beckley he said this will do and I stopped and he got out.  The boy gave me a dollar bill, the fare was 95c and he told me to keep the change.  When he got out of the cab he walked across the front of the cab at an angle south on Beckley.  This boy was small, 5'8" slender, had on a black shirt with white streaks, had on a bracelet on his left hand.  He looked like he was around 25 or 26 years old."

As you can see Whaley writes in black and white that the pick up was at 12:30pm and he dropped the fare off at the 500 block of North Beckley.  No mention of an elderly lady wanting a cab.

Next up; Williams Whaley affidavit version two.

Permissions in this forum:
You
cannot
reply to topics in this forum