Social bookmarking












Bookmark and share the address of REOPENKENNEDYCASE on your social bookmarking website

Bookmark and share the address of REOPENKENNEDYCASE on your social bookmarking website
Affiliates

Revisiting the Thought PM or Oswald had a film camera and a film box in his possession rather than a Cox Box Top

The Cox Tops
Post by Ed. Ledoux on Wed 01 Oct 2014, 6:47 am

From an old thread called NEELY STREET QUESTIONS:
Robert Howard, on 28 Aug 2014 - 1:22 PM, said: wrote:

Several pages back on this thread there was mention of the "portion of Cox's boxtop" in LHO's possession. Did anyone dig further into this? In that era there were two Cox Department stores, one in Waco that went bankrupt in 1995

The other was in Fort Worth and according to Wikipedia, [granted not the most reliable source] it later merged with W. C. Stripling & Sons

fortwortharchitecture.com, writes on their website
W.C. Stripling Middle School
2100 Clover Lane - 1927; 1955; 1958; 1989 (CFW)

This school was constructed in 1927 as W.S. Stripling High School to serve the growing population of the Arlington Heights area and to replace the 1922 Arlington Heights High School. The building was designed by Wiley G. Clarkson and constructed by K.H. Muse. Clarkson also designed for the same school bond package, William James Middle School in the Polytechnic area of the city. The plans for the buildings were identical, but Clarkson put different facades on the two schools. The school was named after W.C. Stripling, founder of Stripling's Department Store. The Stripling building is a 3 story "H" shaped plan and has some Georgian Revival details. At the projecting entry, inscriptions of "Knowledge", "Citizenship", and "Character" appear above each arched opening. The campus was landscaped as a part of the Works Progress Administration by Hare and Hare of St. Louis. The school was converted to a junior high school in 1937, when the current Arlington Heights High School opened. With the West Side continually growing, eight classrooms, designed by Jim D. Vowell were added in 1955 and twelve more were added in 1958, thereby extending the wings of the building to the west.

 
I thought that was worth a post, especially since Oswald went to school there. It might not mean much, but it might at some point in the future.
Cox's box top could be a signal, clue, or key. Hell lets take a stab and see where it goes.
Could be something in its history or location?>

 
LERNER SHOPS (originally The Scott-Harrold Building) - 601 Houston - 1895, 1936, 1946; demolished September 1996. This building was probably one of the largest structures built in Fort Worth in 1895. It spanned across the entire block along 5th Street between Main and Houston. Entrances were on all three streets. Originally, the building had a brick facade with cast iron and wood columns, and was constructed for The Fair Department Store. In 1936, R.E. Cox & Co. moved in and remodeled the store by placing stucco over the brick. The stucco was scored with joints to appear like stone. In 1946, Cox's moved out and The Lerner Shops moved in and remodeled the building again --


"Over at 7th and Throckmorton, Cox's had the first 5 or 6 floors of the FW Club Bldg" ~ (?Fort Worth Club Building)
http://www.fortwortharchitecture.com/forum/index.php?showtopic=1149

"The Fort Worth Club is a multi use Class B office building located between the corners of Taylor and Throckmorton on 7th Street. This beautiful historic building houses The Fort Worth Club, which is a 5 Star Platinum level city club, The Fort Worth Chamber of Commerce, Downtown Fort Worth, Inc. and many distinguished oil and gas firms, law firms, banks and more. Since 1885, The Fort Worth Club has held a unique place in the heart of Fort Worth. Originally developed to give business leaders an attentive and elegant environment to discuss city commerce and politics,..."

http://www.dfwi.org/what-we-offer/real-estate/office/35-Fort-Worth-Club-

 

The overall height of the building is 12 stories. Fakes & Co. were the original tenants of the 6 story base of the building up until 1946, when R.E. Cox & Co. occupied the space until 1955.
www.fortwortharchitecture.com/fwclub.htm

http://hometownbyhandlebar.com/?p=8940

Whatever the city leaders were thinking, West Berry was a relic in the new urban landscape. Stripling & Cox's department store symbolized the stagnation when it closed in the mid-1990s after more than 40 years as West Berry's retail anchor.

"That was the bottoming-out point," Barr said. "When Cox's moved out, there weren't any anchors left."
But some good may have come from Cox's demise.
"That decision sounded an alarm for leaders of the surrounding neighborhoods," Costa said. "They finally came to see that the time had come to do something about the decline of Berry Street because the street was no longer a great asset for the neighborhood or for the city."

(Pictures show "Cox's" sign at this location pre dating the merger)
http://www.magarchive.tcu.edu/articles/2007-03-CV.asp?issueid=200703
Front view of the Stripling and Cox store at 6370 Camp Bowie.
This store was originally R.E. Cox and Co., better known as Cox's.
In the early 1980s, Cox's and a rival department store known as Stripling's
were both doing poorly and I believe were nearly out of business.
They decided to join forces and became Stripling and Cox, which gave them
at least another 25 years of life. They closed permanently not too long after
this picture was taken on June 6, 2007. Photo by John Cirillo.
http://www.fortworthyesterday.com/stripling.htm

http://www.fortworthyesterday.com/pics/Howell-beach-n-belknap-1978-web.jpg

It is worth noting that the FBI failed to interview a single co-worker or employer of LEE Oswald's tall-nice-looking mother when she worked for Goldrings, Kreigers, and Holmes Dept Stores in New Orleans and for Clyde Campbell's Men's Store, the City of Ft. Worth, Paul's Shoe Store, Family Publications, and Cox's Department Store in Ft. Worth from 1956 through 1961. The FBI never obtained any employment information, w-2 forms, payroll records, employment applications or anything else from any of her employers. The FBI simply didn't want to interview anyone or gather records..."
http://harveyandlee.net/Marines/Marines.html

Cox Box Tops ran in the family!!
Basically in Dec 1958 MARGUERITE got hit in the nose "by a box of candy" in COX'S? (Said Oswald and Pic) Or FAIR RIDGLEA Dept. Store? As employee of candy counter ran by King Candy Company at Fair Ridglea she filed a claim for workers comp.

Joh Pic said it was Downtown, which does not sound like The Fair Ridglea thus she must have worked the candy counter at Cox's in Oct '58... Who's telling the truth?

Did she work at Cox's in '58???
This is part that could use some nailing down:
When and where did MO work for Cox's? How do we know?
Where did Cox's move into a new location in '55-'56 after moving from the FWClub Building? Where was it in 1958?

Is there a Cox's Candy Conspiracy, I don't know, but definetely some areas to explore further. (sarcasm mine)

 
http://books.google.com/books?id=I1VBUrmaMPkC&pg=PA63&lpg=PA63&dq=marguerite+oswald+cox&source=bl&ots=M-eHdKBGhx&sig=Gqt5PxICWXOxoLwtbHIyAauXmJY&hl=en&sa=X&ei=DMorVJuSL4epogT1qYHQDA&ved=0CGgQ6AEwDg#v=onepage&q=marguerite%20oswald%20cox&f=false

The Fair at Ridglea circa 1958
https://www.flickr.com/photos/kamaaina56/2870778269/

http://books.google.com/books?id=Gcf19iJnAk4C&pg=PT174&lpg=PT174&dq=fair+ridglea+department+store+fort+worth&source=bl&ots=I-AXBbEiHH&sig=avkLJn4n4jbjCddsT-tTof-5ujQ&hl=en&sa=X&ei=6c8rVKGiGYLMoATTvYGICQ&ved=0CEIQ6AEwBQ#v=onepage&q=fair%20ridglea%20department%20store%20fort%20worth&f=false
Ed. Ledoux

by Ed. Ledoux on Wed 01 Oct 2014, 6:58 am

Stanley Nyberg, who was Mrs. Oswald's
supervisor at the King Candy Company in Fort Worth in 1958, said, "She
came here with her children from New York and had good references" (95).
("Children" -- plural -- this after John was married and Robert had
joined the Marines.)
Any More on Stanley???

Info on Mr Saner Davis? Any relatives?
http://www.history-matters.com/archive/jfk/wc/wcvols/wh25/pdf/WH25_CE_2240.pdf
I think this boils down to the Stripling school vs the West side Ridglea school attendance.
Funny the good doctor recommends getting her head checked alright:
http://research.archives.gov/description/7564850


Stan Dane on Wed 01 Oct 2014, 8:56 am

Unrelated, but since we're talking about "Cox," there's a Roland A. Cox who was a reserve police officer on duty outside the Dallas Police Station on Nov 24, 1963. When questioned after the Oswald shooting, he says he didn't see Ruby enter but was told or he heard that Ruby entered with a camera. Cox said he worked for Ruby eight or nine years earlier. His testimony seemed fishy to me.
Stan Dane

 
greg parker on Wed 01 Oct 2014, 9:08 am

Ed, Marguerite was employed at Cox's between Nov '49 and May the following year.
http://www.maryferrell.org/mffweb/archive/viewer/showDoc.do?mode=searchResult&absPageId=145250
She worked for King Candy Co at Fair Ridglea at the time she had the accident.

Lee never attended Stripling, despite what Robert said and despite what Jack White's friend Kudlaty said. Robert did attend there and he may have simply presumed his brother followed suit. If the FBI pulled any records from Stripling, they were Robert's.
My opinion, fwiw: where the box top came from is not relevant. It's purpose is what matters.
Greg Parker

Stanley Nyberg,
This is the source used by Armstrong:
http://digitalcollections.baylor.edu/cdm/compoundobject/collection/po-arm/id/17768/rec/2

As can be seen, it is a newspaper interview with Nyberg - and he was relying on memory, not actual business records.

At some stage, Marguerite probably told Nyberg she had been living in New York. In his memory, she must have come direct from there. As for the "children" comment - Armstrong is not much of a fact checker. Robert left active duty in 1955 and was living in Fort Worth. Nyberg therefore probably assumed he had moved there with his mother and brother.

The Cox box top is important, Ed. It leads us to who was playing Oswald like a violin. The other stuff from Armstrong just does my head in (to borrow a phrase from an ex-member)
greg parker.


Post by Ed. Ledoux on Sun 05 Oct 2014, 4:53 am

Regardless I found it strange Robert, John and Lee all saying that MO worked at Cox's in 1958. Especially given her termination there and the events surrounding it.
The Cox's Department store on Camp Bowie is in Ridglea, a Fort Worth suburb.
That store along with others like Fair were part of the Ridglea shopping area.
Mrs. Hopkins stated she knew MO worked at Cox's but at the 7th and Throckmorton address in early '50's
http://jfk.hood.edu/Collection/FBI%20Records%20Files/105-82555/105-82555%20Section%20057/105-57d.pdf
Interestingly her employment based on the statement of Clara Nagel is that Marguerite Oswald began work at Cox's on Nov 22nd 1949.
http://www.history-matters.com/archive/jfk/wc/wcvols/wh25/pdf/WH25_CE_2213.pdf

And then on Nov 22nd 1963 we find Ossie carrying a Cox's Box Top?
Ed Ledoux
Now why revisit this?
as Greg says the use is the key.
Cox box top or box size will carry Carcano ammo.
@ 2"x3"
But did it contain ammo or was that even the box they found on Lee.
These same cops claimed five live rounds for a pistol and a bus pass were still in Lee's pockets for the 4:05 show up.
Prayer man and the flash, his movements just bug me.
As does the box.
I'll show you why
For the longest time the Cox Box Top was described in books and elsewhere as WHITE.

I found the box top was actually YELLOW.

Besides another description of box top says:
B19; Top of Yellow Box with R-42 March 24 '55 STAMPED inside.


I thought okay, R = ring and 42  is the style/size
But WTH why stamp a ring box with an exact date.
Do rings spoil, or ring boxes go bad?

NO!

You would not date stamp a ring box.

What would a manufacturer need to stamp a date in the box lid for?

You shall see.
Here is the box top listed into evidence[url=blob:null/b89422e2-f091-4e04-9273-aea6310fa53c]
[/url]Yellow Box Top stamped with date.
Now here is what I believe could be the real box,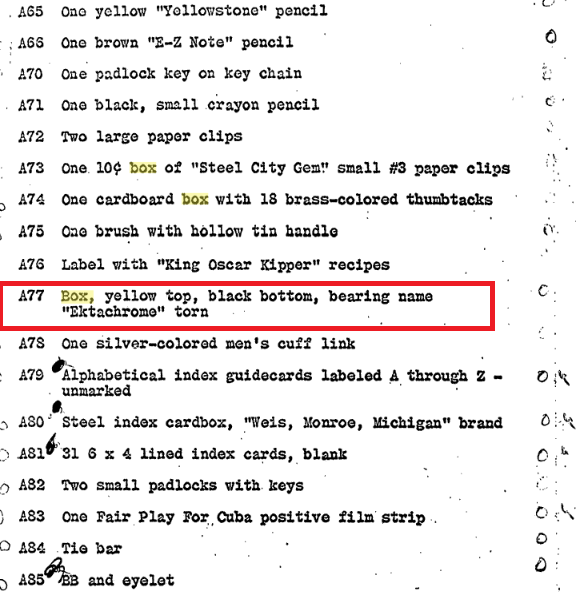 Ektachrome
Came in various sizes, 4x5 inch was common but other sizes could be ordered.
But what would R-42 mean in a Kodak film box?
Well lets see!
http://www.photomemorabilia.co.uk/Colour_Darkroom/Early_Kodak_Ektachrome.html#anchor5
Type R Paper from 1955 (becoming Ektachrome Paper in 1958)
This colour printing paper was designed as a reversal print material intended for printing from Kodachrome, Ektachrome, and other makes of transparency films to produce a finished colour print without the use of a colour internegative.
In 1954, the US Supreme Court ruled that the Eastman Kodak Company were required to release technical information on the printing and processing of Kodacolor films and Kodacolor paper. This ruling also extended to the making of colour prints produced directly from Kodachrome and Ektachrome transparency films. At that time, Eastman Kodak were making Kodachrome prints and Kodachrome enlargements from colour transparencies in any size film format up to 5 inches x 4 inches. Print sizes ranged from 2¼ inches x 3¼ inches to 8 inches x 10 inches. It was possible that these prints were made on a white pigmented cellulose acetate base material similar to the Eastman Kodak "Kotavachrome" prints ten years earlier.
In the early 1950s, Eastman Kodak were also making colour prints from 35mm transparencies by first making an internegative on Kodacolor roll film, and then printing this internegative onto Kodacolor paper.
In 1953, each internegative cost 25 American cents.
At this time, there was no actual film designed for use solely as a colour internegative film, apart from certain Eastman Color negative films being used in the Motion Picture industry.
Kodak Color Print Material, Type R, originated in 1955 jointly from Kodak Pathe, at Vicennes, France, and Kodak Ltd. Harrow, UK. It was first manufactured in roll form only, in France and the UK, solely for use in Kodak processing and printing laboratories in the UK and Europe for making reversal colour prints directly from amateur photographers' transparencies, but was later manufactured by Eastman Kodak at Rochester, New York. Eastman Kodak marketed the product in roll and various sheet sizes in the USA to colour laboratories and professional photographers.
Although 'Type R' was sold in the USA to professional photographers, and possibly amateur photographers in the late 1950s, there is no obvious evidence that the paper was marketed or distributed to anyone in the UK other than colour laboratories operated by Kodak Ltd before 1965. The paper is not listed in the UK Kodak Professional Catalogue for 1964 – 1965.
The paper was balanced for about 3200°K, and when making prints with an enlarger the colour balance was altered by the use of, at first, Kodak Color Compensating filters, and later Kodak Color Printing filters. Enlargers equipped with colour heads could also be used, such as, Agfacolor or Chromega colour heads.
It was recommended by Kodak that the enlargers were fitted with an ultra violet filter, such as a Wratten 2B, and an Infra Red cut off filter. The Infra Red filter prevented extreme red casts in the print requiring a very high cyan filtration leading to lengthy exposure times. A first trial filtration given by Kodak was "10 Yellow plus 30 Cyan" (10 — 30).
The layer arrangement was identical to Kodak Color Print Material, Type C, with the red sensitive layer on top, the green sensitive underneath the red, and the blue sensitive layer at the bottom of the pack. Unlike the material used for making Kodachrome prints, the emulsions for 'Type R' were coated onto a paper byrata–coated base. The paper was about twice as thick as Kodak single weight Bromide paper made in the UK in the mid-1950s (Bromide WSG 2S).
Processing Type R Paper, using Kodak Color Print Process P-111, from 1955
Color Print Material, Type R, was designed to be processed in Kodak Color Print Processing Chemicals, Process P-111. Process P-111 was mainly intended for deep tank and machine processing of the paper using print baskets or continuous processing machines.
In 1960, a Kodak Color Print Processing Kit for Process P-111 could be obtained in a 3½ US gallon size. This kit contained the chemicals to make the six processing solutions, the Stabilizer being made up by the user to the Kodak formula. Separate packs of the six solutions were also available in sizes of 3½ US gallons, 10 US gallons, and 25 US gallons of each processing solution excepting the Stabilizer. A First Developer Replenisher, Process P-111, and a Color Developer Replenisher, Process P-111, were available to make 5 US gallons and 25 US gallons of each solution.
This sequence is the procedure for Tank Processing, in 3 gallon tanks or larger, using the Kodak Color Print Processing Basket. Times may have been different for continuous processing machines.
Load paper in total darkness, and total darkness for first three steps.
Not permissible to handle the paper under the Wratten 10H or 10 safelights.
Solution or Wash   
Temperature °F   
Time (Minutes)
1. Pre-Wet    
73 – 77   
3
2. First Developer    
75 +/– ½°F   
6
3. First Stop Bath    
73 – 77   
4
Remaining Steps can be done in White Light.
4. Wash    
73 – 77   
12
5. Reversal Exposure     Expose emulsion side for 15 seconds 1 foot from a No.1 Photoflood lamp.
6. Colour Developer    
73 – 77   
8
7. Hardener Stop Bath    
73 – 77   
8
8. Wash    
73 – 77   
3
9. Bleach    
73 – 77   
8
10. Wash    
73 – 77   
6
11. Hardener Fixing Bath    
73 – 77   
7
12. Wash    
73 – 77   
10
13. Stabilizer    
73 – 77   
1
14. Rinse    
73 – 77   
¼
15. Dry    
Not over 180 °F
Total wet processing time i.e. excluding Reversal Exposure and Drying = 74¼ Minutes
Notes:-
    The "Pre-Wet" step was necessary to prevent "Mottle". Mottle is the effect of uneven development, either from the First Developer or Colour Developer, or both. It shows on the print as uneven density of colour in large areas of the same tonal range, such as blue skies, or concrete roads. It is caused by the developers not being able to access the three emulsions fast enough, or developing the three layers unevenly, being "held back" by the fibres in the paper base. Print emulsions coated onto a "paper" base are much more prone to mottle than Resin Coated papers, especially in long processing sequences, such as P-111. The "Pre-Wet" step soaked the three emulsions and the paper base before the start of the First Development, to ensure a more even flow of developer through the paper.
    In total darkness, the print processing basket was placed in the Pre-Wet tank and agitated for 5 seconds, then removed for 10 seconds. This was done three more times in the first minute. For the remaining two minutes the basket was drained over the tank to prevent any excess water from diluting the First Developer.
    Once the print basket was in the First Developer, it was agitated for 30 seconds. Then the basket was lifted out of the solution and drained for 5 seconds. This agitation rate was continued every minute for the remainder of the first development time and followed for every other processing step and wash step.
    Apart from Step 1, a 15 second draining time was included in each step time.
    Reversal Exposure Step. Each end of the print processing basket was exposed to a No.1 Photoflood lamp for 15 seconds. Alternatively, the individual prints could be removed from the basket and their emulsion sides exposed 1 foot from the lamp for 15 seconds.
    The "Stabilizer" was made up to the formula:- 1¼ fluid oz. of Kodak Formaldehyde to 1 US gallon of water.
    Drying. It was difficult to judge colour casts on Type R material while test strips and prints were still wet. Whilst wet, prints made on Type R appeared too blue and slightly opalescent, much the same as Type C material and the later Ektacolor papers. This effect disappeared on drying.
From 1958, Kodak Color Print Material, Type R, became known as "Kodak Ektachrome Paper".




Well its just a theory that the boxes could be switched
The box is for paper not film.
The box or the paper needs to be opened in a dark room (small storage room ? )
Is there a technique using photographic paper to take a picture?


Say a pinhole camera made from a box using photo paper...
http://www.lilblueboo.com/2013/08/pinhole-photography-taking-a-photo-exposure-times.htm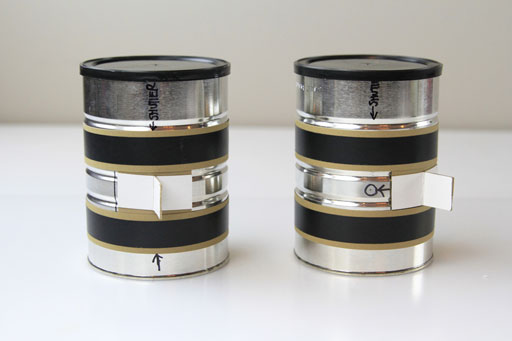 The above pin hole camera is shiny, its also wide angle due to curved surface...

But a pro Macgyver could make a camera in a few seconds, box, film, tape, hole.
The Ektachrome type boxes
Yellow with black bottom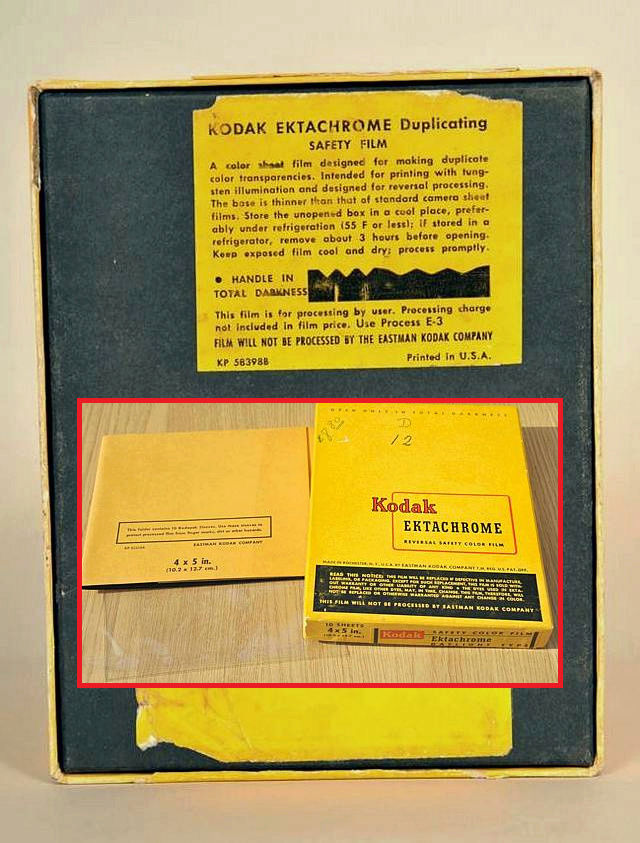 R-42.
What is 42 if R is Type R
Type R film which becomes Ektachrome
Usually a year
1942?
Lets see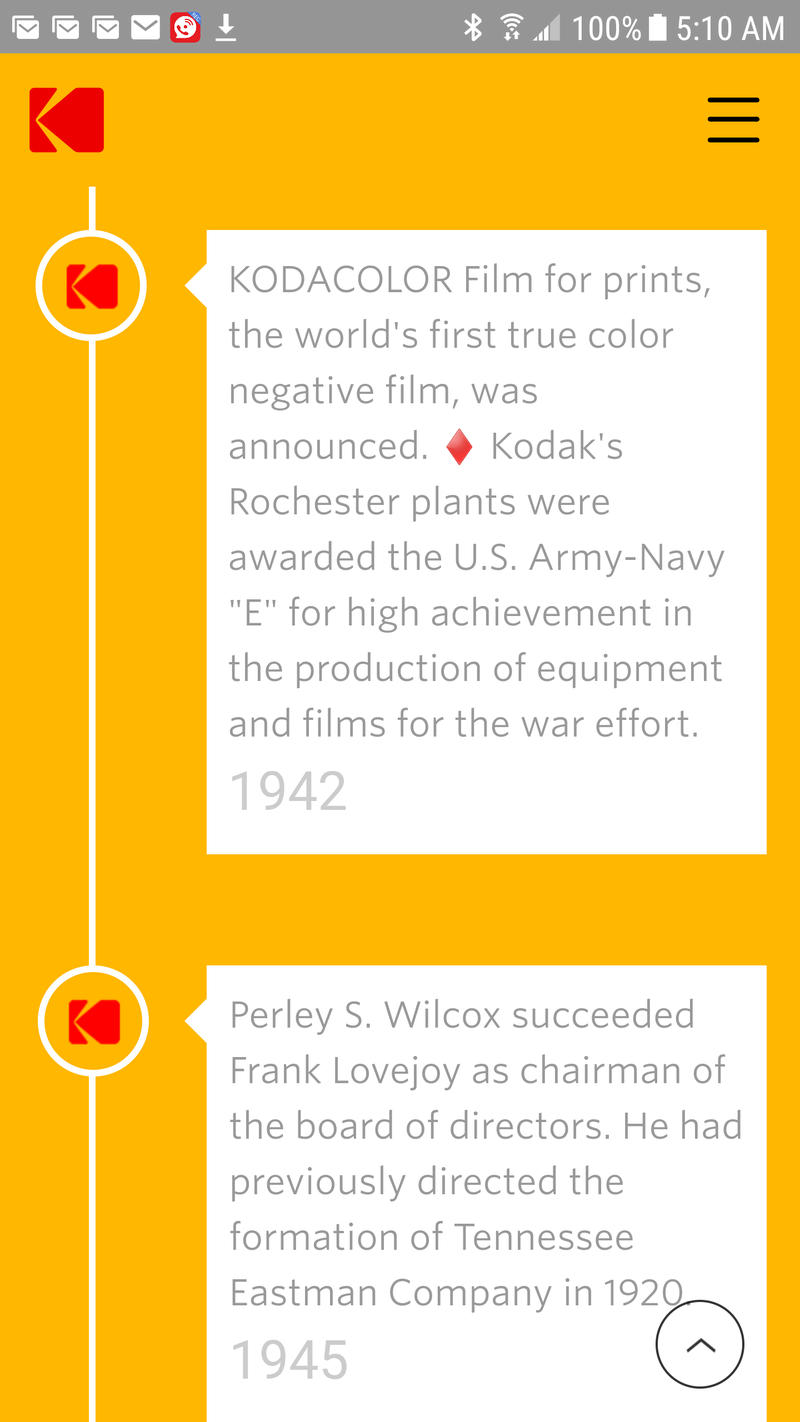 Army or military issued type r film, surplus, makes sense.
Lee is frugal.
---
Permissions in this forum:
You
cannot
reply to topics in this forum