Ed.Ledoux

Posts

: 2967


Join date

: 2012-01-04

One interesting tidbit that popped up on FB was a thread dealing with Lieutenant JC DAY of the Dallas Police 
identification bureau.

Day processed the rifle found on the sixth floor of the depository.
After dusting for prints he decided to not place the rifle in a paper bag to transport the rifle to DPD headquarters.

Interestingly Day carries the rifle out of the TSBD and begins walking.
He passes police cars and cruisers, passes the car he came in, and keeps walking.
Finally in a film clip we see Day and an FBI agent enter an car park along side Market or Record.

Why? What was the purpose of the hike, why not have the car pull up to the building and or take a DPD cruiser, or the car you came in.
What was going on that needed Federal assistance transporting Police Lieutenant Day and a rifle through Dallas city streets.

Who was the driver/agent?

"
Mr. McCLOY. There was never any doubt in your mind what the rifle was from the minute you saw it?
Mr. DAY. No, sir; It was stamped right on there, 6.5, and when en route to the office with Mr. Odum, the FBI agent who drove me in, he radioed it in, he radioed in what it was to the FBI over the air."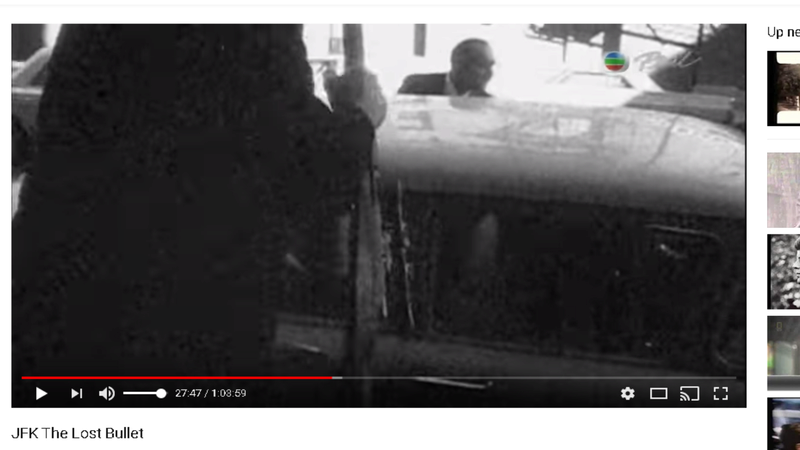 Watch Starting At 27:46 
https://www.youtube.com/watch?v=oyECKcK0uCw
Thanks for Bart's help in looking at this!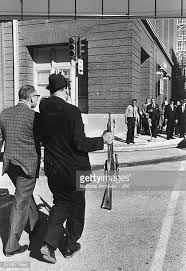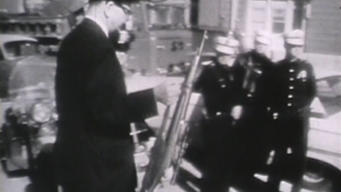 Cheers, Ed
Ed.Ledoux

Posts

: 2967


Join date

: 2012-01-04

Bit from Dennis Moricet
https://www.facebook.com/groups/780923448613656/permalink/1708718662500792/
Good catch by Roy Storing
"Roy Storing Linda Giovanna Zambanini I do not believe we are seeing Lt Day on Record St with Elm St directly behind him as he and Odum? approach the car. Elm St was a very busy 4 or 5 lanes wide. The street behind Lt Day that cars are turning into is only 2 maybe 3 lanes wide max. On "The Lost JFK Tapes" DVD at 33.42 this footage displays Elm St from Record St toward Houston St and into Dealey Plaza. This film footage also includes a good view of the Purse & Co building on the corner of Record and Elm St. This LOS will give you a good idea as to how busy/wide/traveled both Elm St and Record St were. The sign you referenced does Not have Jennifer Juniors printed on it. It says JEAN...... MFG CO & Joy Inc Blouses."
Cheers, Ed
We brought up Day during a break yesterday, no way did he get that print of the rifle.
Could we move this to the normal forum? Get some debate and traffic on the go?
_________________
Prayer Man Website.     Prayer Man On FB.     Prayer Man On Twitter.     Prayer Man On YouTube
barto wrote:Could we move this to the normal forum? Get some debate and traffic on the go?
I hear the call of duty...
Moving in progress, Barto.
Ed.Ledoux

Posts

: 2967


Join date

: 2012-01-04

Tue 01 May 2018, 11:01 am
Day also claimed that driving back to the office with FBI-agent Odum, Odum radioed in the identity of the rifle. Mr. Odum never mentioned this and was not called before the Warren Commission. Once again, we see that a claim made by Lt. Day is uncorroborated.


https://issuu.com/coppens/docs/tina

Page 16  THIS IS NOT AMERICA The assassination of President John F. Kennedy ~ Philip Coppens.

Cheers,Ed
Permissions in this forum:
You
cannot
reply to topics in this forum