Sun 29 Aug 2021, 11:19 am
In the Kharkiv thread, Barto posted some docs about George Bloodworth and his misadventures with George Bouhe in 1968 and with Helga Tismer in the late 1970s.

The interest in those docs was because of the presence of Lydia Dymitruk.

I thought Bloodworth might be worth looking into, but it turns out, his visit to Alex Kleinlerer's apartment in 1968 where he meets Bouhe and Dymitruk is where some gold was found. 

Barto's document describes how Bloodsworth's wife was talked into accompanying Kleinlerer to a local deli, leaving her husband to be entertained by Bouhe and Dymitruk. Bouhe mixes them some drinks. They begin talking about Bloodsworth's work. When Mrs Bloodsworth and Kleinlerer return, the discussion revers to more general talk and the Bloodsworth leave to return home. All pretty mundane stuff... on the surface.

But there is another document which paints this scene in an entirely different light.

In this document, it appears what really happened was that Mrs Bloodworth was taken away from the scene so that Bouhe could slip a drug into Bloodsworth's drink in order to loosen his tongue for what amounted to an interrogation. Bloodworth was so affected by the drug, his wife had to drive home.

So was Bouhe doing this on his own behalf for the files he apparenly liked to keep on people, or was it on behalf of some other entity? If so, which?

And does this paint his involvement with the Oswalds in an entirely new light?
_________________
Australians don't mind criminals: It's successful bullshit artists we despise.
              Lachie Hulme            
-----------------------------
The Cold War ran on bullshit.
              Me

"So what's an independent-minded populist like me to do? I've had to grovel in promoting myself on social media, even begging for Amazon reviews and Goodreads ratings, to no avail." 
Don Jeffries
"I've been aware of Greg Parker's work for years, and strongly recommend it." 
Peter Dale Scott
https://gregrparker.com
Bouhe

https://drive.google.com/file/d/1nwDBVX38N-sEtK0-lNYxVaRFt4kJK_f3/view?usp=sharing

https://drive.google.com/file/d/1w5q2Y1ayTAAQx2B8FXUuUPm69SnMZ5ji/view?usp=sharing

https://drive.google.com/file/d/19Oi6vvaMmO7fKsBQxvgcJDvxifglxb8W/view?usp=sharing

https://drive.google.com/file/d/1tOCI8AXefG8koeG940lwRqi-zKxVTYdl/view?usp=sharing


Bloodworth

https://drive.google.com/file/d/19cvcf0ZHuxH0Wsi-1gd-KklBJTDa-gW_/view?usp=sharing

https://drive.google.com/file/d/19UvPA6HkWdteW4J-tN-rY9F-niCfRaBZ/view?usp=sharing


All with thanks to Malcolm Blunt.
_________________
Prayer Man Website.     Prayer Man On FB.     Prayer Man On Twitter.     Prayer Man On YouTube
Steve Thomas

Posts

: 18


Join date

: 2020-07-12

@greg_parker

wrote:

So was Bouhe doing this on his own behalf for the files he apparenly liked to keep on people, or was it on behalf of some other entity? If so, which?
Greg,
I personally think that people have not paid enough attention to Bouhe's background.
WC testimony of George Bouhe:
http://mcadams.posc.mu.edu/russ/testimony/bouhe.htm
Mr. BOUHE - For 9 1/2 years I was employed as a personal accountant of a very prominent Dallas geologist, and probably capitalist if you want to say it, Lewis W, MacNaughton, senior chairman of the board of the well-known geological and engineering firm of DeGolyer & MacNaughton, but I was MacNaughton's personal employee.
Why is the personal accountant to one of the founding members of one of the county's largest and most prestigious oil and gas exploration firms in the United States paying so much attention to Lee Harvey Oswald?
It struck me a while back that the people who latched on to Oswald when he got back to the U.S. were not oil and gas company executives. They were geologists and engineers.
I don't know what to make of that.
Biography of David J. Brown
http://obits.dallasnews.com/obituaries/dallasmorningnews/obituary.aspx?n=david-j-brown&pid=111341369
"He joined the United States Army in World War II. He served two years in the China-Burma-India Theatre. After he returned from the war, he graduated from SMU in January of 1947 with a BBA in professional accounting. He then went to work for DeGolyer and MacNaughton as a petroleum economist and served with Lewis W. MacNaughton as a petroleum economics consultant to the Finance Minister of the Saudi Arabian government from 1952 to 1954."
http://www.demac.com/
DeGolyer and MacNaughton is one of the oldest and most respected names in the oil and gas industry. Since its formation in 1936, D&M has strived to be the leader in petroleum industry consulting services. With offices around the world, D&M employs over 180 petroleum professionals, including engineers, geologists, geophysicists, petrophysicists, statisticians, and economists who speak over 30 different languages. D&M provides a wide range of petroleum consulting services to clients worldwide and is consistently at the forefront of the industry in implementing innovative technologies.
As the leading independent consulting firm focused on the petroleum industry, DeGolyer and MacNaughton provides unbiased and informed answers to clients worldwide. D&M skillfully blends energy economics, engineering, and the earth sciences to help clients in more than 100 countries make the smartest decisions regarding exploration, recovery, and management of oil and gas resources.
The firm's services include resources assessments, reserves consulting, reservoir modeling, geologic and petrophysical analyses, development planning, guidance with financial reporting issues, and financial forecasting for petroleum discoveries.
[Resume and Job Application of Declan P. Ford #1] Page: 1 of 10
https://texashistory.unt.edu/ark:/67531/metapth339990/m1/1/?q=Continental
Resume and job application by Declan P. Ford. Ford had experience doing geological studies. He was a member of the U. S. Navy from 1942 to 1945. A short report at the end of the application states that Ford's wife, Katherine, was known to have stated that Communism had merit. Katherine Ford, who was Russian, had been seen with Marina Oswald.
George DeMohreschildt was a geological engineer and oil exploration consultant.
P.S. Lydia Dymitruk deserves a long hard look. Her modus operendi matches Marina Oswald almost to a T.
Steve Thomas
Ed.Ledoux

Posts

: 2460


Join date

: 2012-01-04

I was interested in the plastic coincidences
LOMA
PLASTE-LITE
RAND CORP.
KLIENLERNER
ADAMS
WEBSTER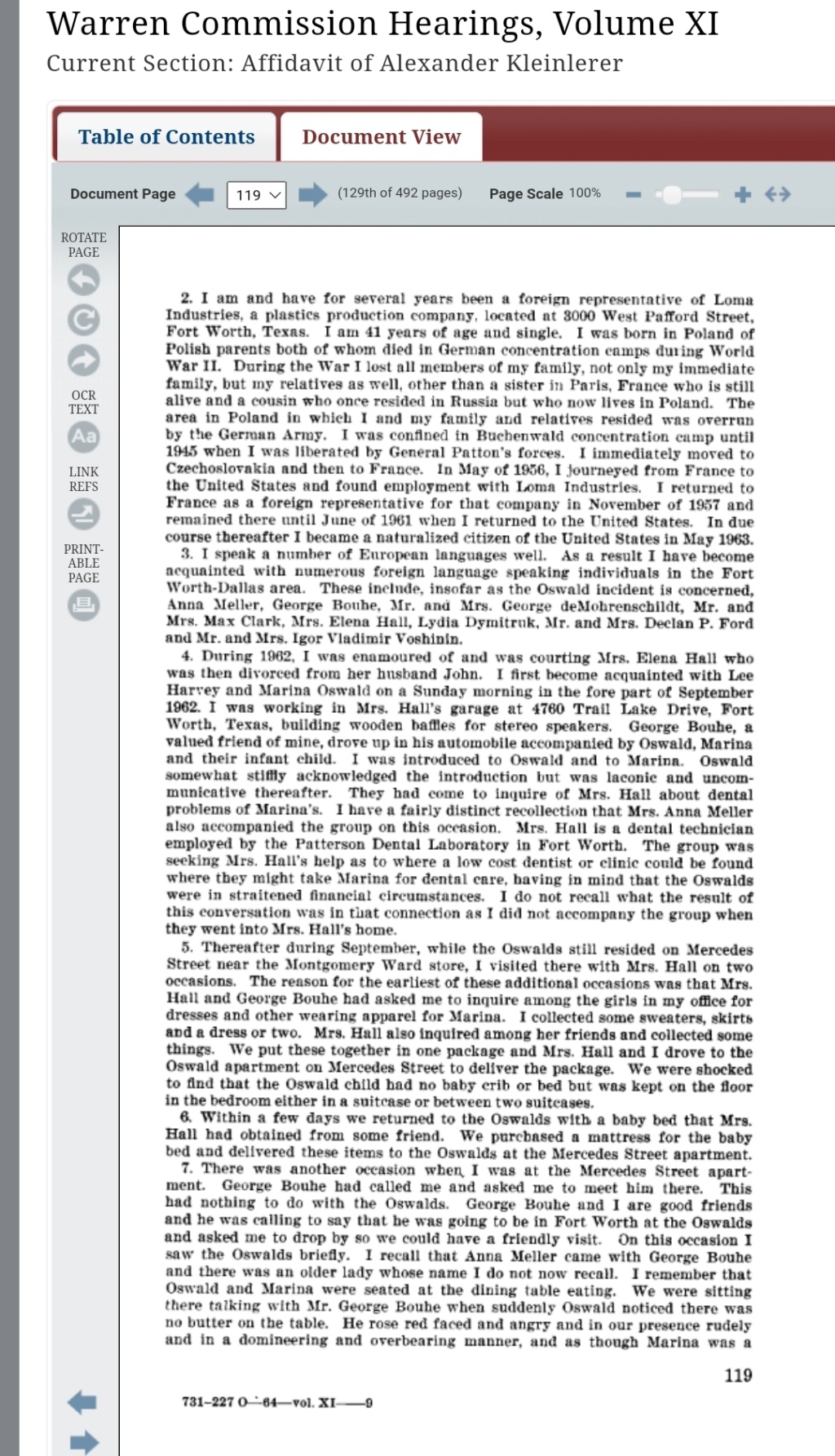 Double Dangle
https://aarclibrary.org/the-jfk-case-the-twelve-who-built-the-oswald-legend-part-5-the-double-dangle/
A potted timeline.  Chronological order and details are from memory only.  If anything looks doubtful, ask and I will dig up a citation and correct if need be, 

Edwin Ekdahl becomes Lee's step-father. He is an electical engineer and takes Lee and Marguerite travelling to places like Santa Fe as part of his work.

Most of the Rosenberg spies are electrical engineers and much of their "networking" takes place in Santa Fe - remowned as a spy city.

Oswald joins CAP where David Ferrie seems to be acting as a spotter for intelligence, as well as running his own that intelligence ttwork based around what was announced by CAP in 1949.

Oswald gets jobs acting as a courier for two intel-connected freight-forwarding companies. The second f these requires the port authority to keep a file on Oswald, such was the apparent sensitivity of the material he was running. This file r=was routinely desctroyed wll before the assassination. 

Sylvia Hoke - working on FICON - a program looking at recruitment of maintenance men for a soon to be defunct overflight program. 

Soviets balking at test ban treaty on the issue of US capability in detecting atom bomb tests on the basis that the radar used could be employed to improve bombs as well as merely detect them

The White House chief scientist notes in his diary that they try to overcome Soviet concerns by among other things, secretly supplying them with blueprints.

U2 program supercedes FICON. New detection system supercedes the one that had Soviet knicjers in knot.

Oswald joins Marines and goes into paircraft mainteance before switching to electonics.

Various exchange agreements are signed including with the Soviets on exhange of science, culture, education. These agreements stipulate how such exchanges must take place and add at the end "or in any way agreed upon by the parties." (or words to that effect)

Nixon is in the Soviet Union and takes part in the amous Kitchen Debates. But less know is that he alo had talks about marriages between US and Soviet citizens abd the issue of free choice of country of residencefor such couples. Webster defects and is put to work showng the soviets how t make the spray guns he had been demonstrating at the exhibition. Internal Soviet reports state he his hopeless at this task. HE apparently meets Marina.

Oswald lands in Soviet Union just as Popov is being arrrested.Popov had been feeding the US intelligence for a while, up to and including that the Soviets now had all the technical data on the U2 flights. Popov is executed. He had been burnt by hsi US contacts (imo). 

Oswald is eventually sent to Minsk and put to work for a couple of weeks in the Experimental shop. This factory had been moved from a satellite country where it made among other things, military radar. 

The test ban treaty talks are back on the table. 

Against the wishes of Eisenhower, one more U2 flight is ordered over the Soviet Union. This flight is brought down by the Soviets and that is the end of the Test Ban talks again.

Oswald has a whirlwind romance with a pretty pharmacist/probable KGB swallow named Marina. After less than 6 months marriage, Marina goes for vacation to Kharkiv in the Ukraine -  a  trip that makes no sense on the face of it - but where it was possible to be trained or prepapred or briefed for various missions.

A CIA trained REDCAP agent named Platovskly, who had been dropped into Minsk to gather info and recruit sleeper cells, is arrested and executed.

Oswald starts making plans to retur to the US.

Although it takes a while to get out, it was a comparitive short time and everyone is surprised that Marina is allowed to leave as well. 

Landing back in Fort Worth in June 1962, they make a stop in Atlanta on the way. Atlanta is home to the parents of a US Soviet consulate doctor. 

Later that year, the Oswald clan holds a family reunion, minus Margurite, plus Peter Gregory. John Pic has travelled from his Ait=r Force base by car. Records the mileage for this trip in his notebook - a common practice to claim work-related  travel exoenses against tax liability. His notebook also contains a strange written "conversation" wth Marina based on her pharma knowledge and his work in a USAF hospital lab. Was this reunion really cover for Pic debriefing Marina for USAF intel?

Soon after, the Oswalds become surrounded by Emigres mostly working in oil exploration and geology - but also in engineerng across a  number of fields, bu particularly aircraft.

The Paines and the Russians do their darndest to separate the Oswald's and succeed a couple of times. On one occasion, Marina and baby are moved into  Neely St. Supposedly Oswald is also living there, but electricity records how he was still conected at the Elsbeth address until moving to New Orleans on his own.

During the Neely St period, a pistol and carbine are ordered through the mail in the names "AJ Hidell" and "A Hidell". A could stand for Agnes just as easily as Alik. Marina would have had access to the PO box given it was too far from Oswald's work fir him to pick up mail. Moreover, Ruth Paine picked IMarina up on the day that the carbine was ordered.

Someone takes a potshot at General Walker, but it has all the hallmarks of a pre-talking tour publicity stunt - including Walker dramatically brushing debris out of his hair as he was opening the door for the media. This bullshit brushing of debris from hair was also used to reinforce shots from the 6th floor, alegedly causing debris to land in Bonny Ray Williams hair one floor below.

Oswald moves to New Orleans, finds an aparment and a job. Marina eventually joins him there.

Meanwhile he begins flirting with the Fair Play for Cuba Committee. Someone orders handbills using the name Osborne. The description given of this person is that he  had the physique of a laborer.  That hardly sounds liike scrawny Oswald. Whoever it was, may have been misheard atempting to use Oswald's surname, or his real name was indeed Osborne, or he misremembered Oswald's surname and wrongly recalled it as Osborne. 

Soon, some of these handbills will be stamped with the AJ Hidell name and an incorrect PO Box and a person handing these out on the wharves would be escorted and warned off by a port police officer. According to Oswald himself, this was indeed someone using the name Hidell and alleging he was the President of the NO FPCC chapter. Again according to Oswald, after the wharf incident, Hidell contacted him and asked Oswald to take over handbill duties. So the next lot were stanped with Oswald's name and home address. 

Oswald hangs out at a garage looking at outdoor and weapons magazines and talks guns.

In September, Ruth has organized to pick Marina up and take her back to Irving. She does the trip via a visit to her sister in the east, Sylvia Hoke.

Ruth also organizes for local quakers to visit the Oswalds.. Ruth Kloepfer and her two daughters visit after Ruth arrives. The two Ruths and Marina separate into the kitchen, leaving Oswald to be brow-beaten by the two daughters. One - yet another Ruth - who was 16 at the tme - would later recall for me that ( a ) she thought Lee was hitting on her ( b ) he was evasive about his finances ( c ) he could not look her in the eye and ( d ) when asked where he was heading, said "east". When asked why, said "to buy a rifle".  Ruth the Younger was without doubt "Daddy's girl". She was a member of ban-the-bomb type groups with him. He was Dr Henry Kloepfer - a geneticist with a special interest in twins and an occasional source of information for the CIA. 

Despite telling young Ruth he was heading east to buy a rifle, he told Marina and Ruth Paine that he was either heading east or to Houston to look for work. There are entries in his notebook of places in the east that may have been job leads supplied by the ever-helpful Ruth Paine. But he also told Marina that he had a friend in Houston who would help him. This was undoubtedly Horace Twiford - the head of the SW iin Houston and to whom Lee had been referred by the head office of the SWP. 

Evidence indicates that Oswald did go to Houston, did try and contact Twiford and did loook for work in that city before giving up and returning to Dallas. This begs the question of what his alleged conversation with young Ruth was about. Was he simply trying to impress her? Was he continuing some role play from an intel op? Was she simply lying to further paint him as a dangerous malcontent? 

Back in Dallas, Lee stays the night at the Y and then hitches to Irving. A week later, he is apparently living at Mary Bledsoe's for a week before moving to N Beckley and landing a job with Ruth Paine's help, at the TSBD - which has just moved across the road from its previous location in the Dal-Tex building. The new building is owned by Harold Byrd - a founder of CAP, a millionaire many times over, owner of enginering companies, a big game hunter and an amatuer master magician - and therefore a master of misdirection and sleight of hand. The building super and one of three directors is Roy Sonsom Truly - a cousin to the wife of disgraced Navy Secretary, Cold War Hawk and former lawyer for Edwin Ekdahl, Frd Korth. Truly's wife is a cousin to the founder of the Flying Tigers, Claire Chennault who hired the man after whom the JBS was named. Ekdahl had also lived in China working for a company that had big military contracts for frozen and dried egg and poultry products. A good job - and/or good cover.

Ruth Paine begins giving Russian language lessons to Bill Hootkins - a young member of one of the Dallas emigre clans. These lessons were supposed to take place iat the exclusive school Hootkins attemded, but really took place at Rith's Irving adddress where young Bill could learn  a lot more from a native speaker and also practice his oratory skills at the local barber shop - good training for his later career as as actor. 

There is confusion over which building the shots came from - which building was home to the TSBD, which floor the shots came from, what weapon was found, who was on the 6th floor prior to the shooting. 

 And the fact that Truly permitted Oswald to leave just prior to reporting his employee as missing is deep-sixed. 

Oswald is picked up, framed and murdered, allowng his alibi to be lied about in order to "disprove" it. 

The rest is hstory smothered in bullshit by the government and nearly 60 years of broken epistemology by private slueths
Vinny

Posts

: 2360


Join date

: 2013-08-27


_________________
Out With Bill Shelley In Front.
Permissions in this forum:
You
cannot
reply to topics in this forum