+7
Goban_Saor
Vinny
Mick_Purdy
StanDane
Jake_Sykes
barto
greg_parker
11 posters
Ed.Ledoux

Posts

: 2967


Join date

: 2012-01-04

More on Masao Yamamoto's treatment by the DPD
UPI wire story, Feb. 16, 1943
One Dallasite who was pretty angry and unhappy with the situation was Masao Yamamoto, an executive with the Japan Cotton Company who had lived in Dallas since 1928. He and his wife and two young sons (one of whom was born in Dallas) were living what appears to have been a nice life in the M-Streets when they were "detained." Ultimately, the Yamamoto family was deported and sent to Tokyo, six months after the photo at the top of this post was taken (Mr. Yamamoto is the third from the left in the top photo) — they were part of a sort of prisoner swap.
After his deportation, Mr. Yamamoto complained to the Japanese press about his treatment in Dallas, where he said he was arrested, relieved of his possession, and thrown in jail with "burglars, murderers, deserters and other criminals."
Will
Fritz
just about had a seizure when he heard of Yamamoto's complaints, insisting that he was not mistreated and that he was a dangerous enemy agent: "Any apology that may be due should go to the murderers and burglars instead of Yamamoto. […] He was deported for we have absolute proof he was an agent of the Imperial Japanese Government and that his cotton-buying story was just another Jap blind. I consider him one of the most dangerous of enemy agents" (DMN, Feb. 17, 1943). (This is from the article which described
Fritz
as "one of Dallas' most enthusiastic Jap-haters." 
"Over the past quarter century, he and his aides have solved roughly 98 per cent of the
54 to 98 homicides committed each year". (Dallas Morning News, March 1, 1959)
VS
"over the course of 2016, DPD cleared — clearances being defined as making an arrest, not getting a conviction — 84 of the 172 murders committed in the city of Dallas. That 49 percent clearance rate is off by about six percent from the department's 55 percent three-year average"
Amazing they didn't ask Will
Fritz
how to clear nearly every case!
Amazing every police department didn't offer Will a job teaching investigators.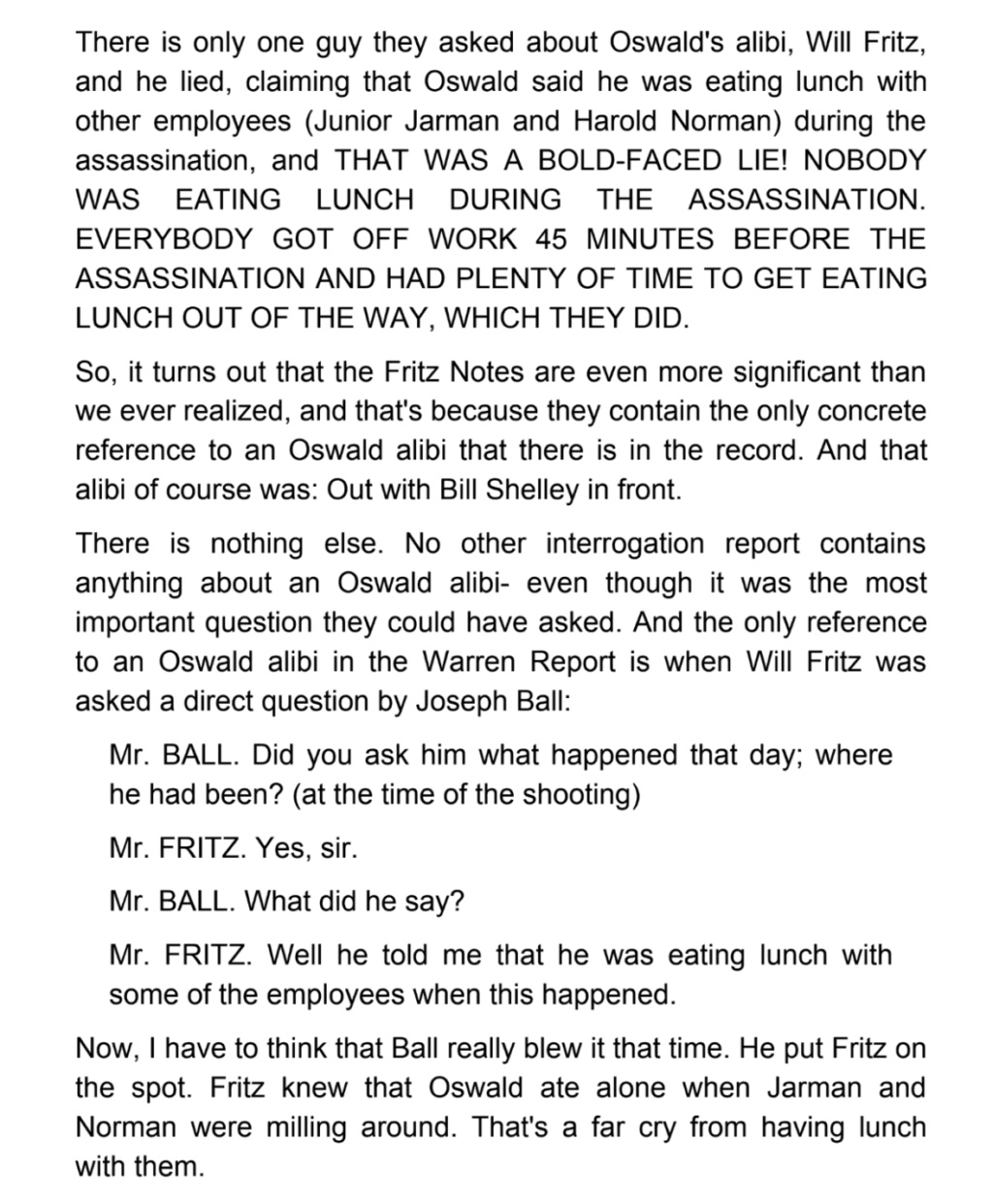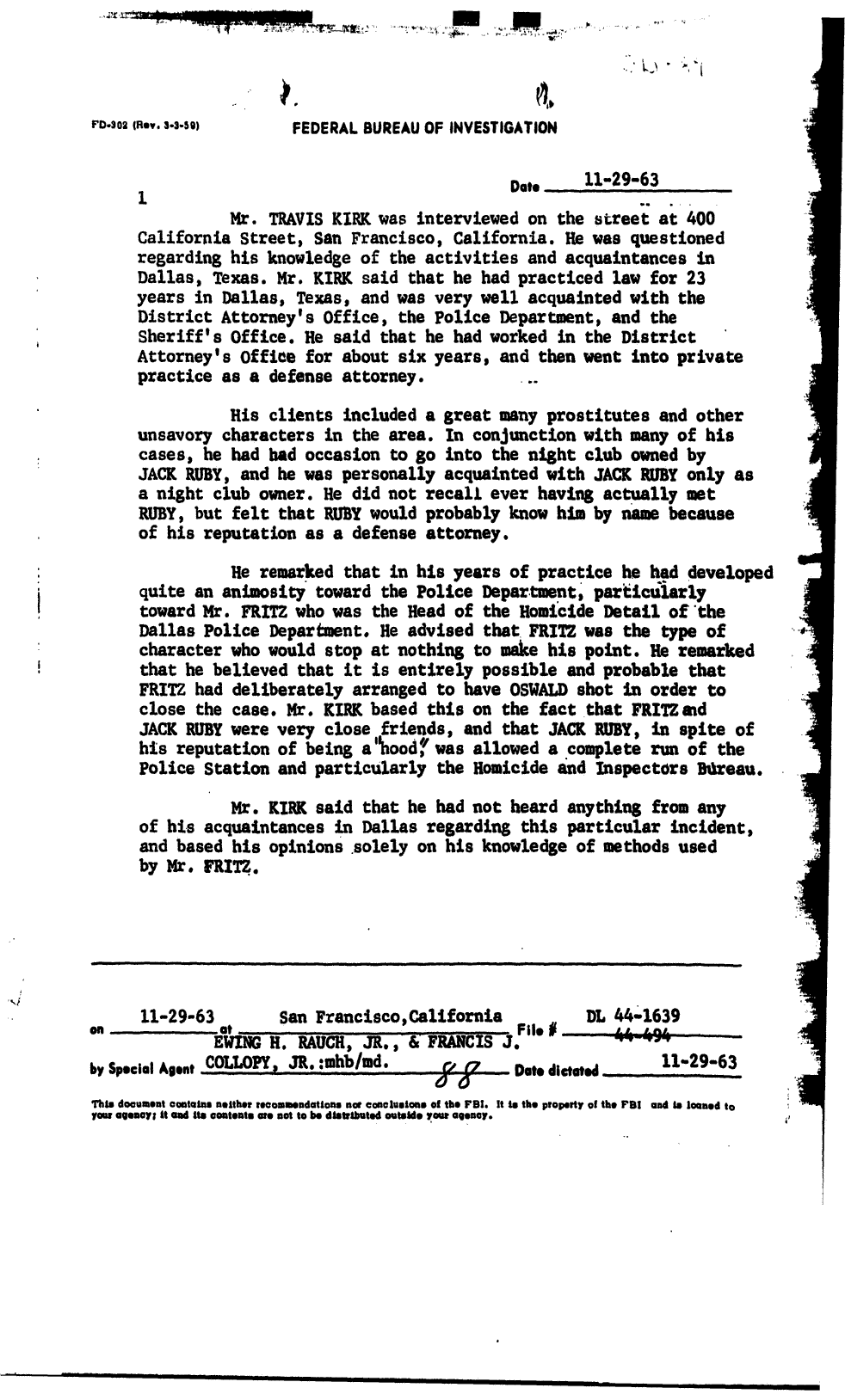 Vinny

Posts

: 2702


Join date

: 2013-08-27

Fritz appears to have been quite a racist.

_________________
Out With Bill Shelley In Front.
Vinny

Posts

: 2702


Join date

: 2013-08-27


_________________
Out With Bill Shelley In Front.
Fri 23 Jul 2021, 12:55 am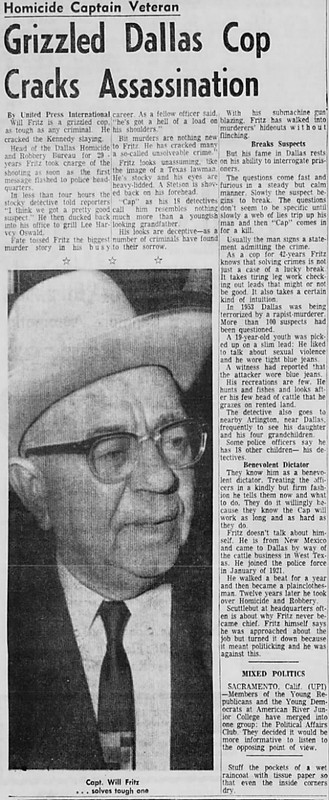 Jake_Sykes

Posts

: 939


Join date

: 2016-08-15

Fri 23 Jul 2021, 12:59 pm
Stan, it's funny, but...it's not funny. I know you know what I mean. Good stuff either way.

_________________
Release clear scans. Reveal the truth about Prayer Man. Preserve the history of the assassination of JFK.
Permissions in this forum:
You
cannot
reply to topics in this forum