+10
John Mooney
Hasan Yusuf
Colin_Crow
Martin Hay
Ed.Ledoux
Albert Rossi
ianlloyd
James DiEugenio
StanDane
greg_parker
14 posters
Mick_Purdy

Posts

: 2179


Join date

: 2013-07-26


Location

: Melbourne Australia

Wed 19 Jan 2022, 11:51 am
_________________
I'm just a patsy!
Ed.Ledoux

Posts

: 2967


Join date

: 2012-01-04

Wed 19 Jan 2022, 12:18 pm
Thanks Mick!
Still no sea bag duffel bag type luggage though but hey this was a freaking breakthrough!!!
Cheers!
Ed
Ed.Ledoux

Posts

: 2967


Join date

: 2012-01-04

Not to single anyone out,
and Royce may have adjusted his view since.... but this type response is backwards thinking.
Patently wrong approach to it.
Why would the SS try and connect a neighbor of Lee's to a scope...oh that's right he gives him a ride.
Really.
If that's the logic then carcano bullets must be from hitchhiking.
Cheers
JFK_FNG

Posts

: 212


Join date

: 2021-09-09

Interesting thing on the Secret Service investigation is that the only other place the scope supplier sold to besides Klein's Sporting Goods was Dave's House of Guns in Dallas. Dave's was investigated as a potential supplier of the pistol, since they were also one of few places that carried the exact modification of .38, but I can't find anything suggesting they were ever asked about a scope.

You'd think that especially after Dial Ryder surfaced that someone would have at least checked out the lead, since the scopes had no serial number and Dave's could have had a record of an ordnance optics 4x scope sold to Oswald, Bill Randle, or something. Quite the coincidence that the only other place in America to buy an ordnance optics scope besides Klein's was on Elm St. in Dallas.

I read somewhere that the owner of Dave's died in 1965 of natural causes, but have no idea how old he was or if there was anything remotely suspicious about it.

The "apparently she didn't know" in that comment is another eye roller. As mentioned in the other thread the source document for CE 1799 says Roberts' source was Bill Randle himself, which was included in the first draft of CE 1799 then removed before the report was sent to the WC. Also that Secret Service report I found with the "two and from" is interesting because a lot of the other info seems to have come from Oswald's interrogations, e.g. the previous addresses mention everything except 214 Neely St. Also since the report says "Wm" and not "Willie" and it's from the 26th it seems like the Secret Service at least got some corroboration on Schneider's story. As pointed out by Mick there is no way the SS didn't follow up with Dorothy Roberts, and Bill, but the paper trail seems to have disappeared. Interesting stuff.
Mick_Purdy

Posts

: 2179


Join date

: 2013-07-26


Location

: Melbourne Australia

Mon 24 Jan 2022, 11:26 am
Something happened early evening on Friday 22/11/63. All decent leads in the case suddenly became relatively redundant to most of the agencies involved.  I know others here may disagree with me on this but there were three calls made to Henry Wades office from Johnsons office by Clifton Carter. Wade recalls that those telephone calls made to his office were quite specific - that the man they had in custody was to be charged with no mention of any confederates. Clearly some sections of the agencies ignored that direction but in the main they started to toe the line over the weekend. The Dallas Police force obliged from the get go and Oswald's fate was determined by the inept, negligent Jail transfer.

As pointed out by Mick there is no way the SS didn't follow up with Dorothy Roberts, and Bill, but the paper trail seems to have disappeared. Interesting stuff.

Dorothy Roberts was the first port of call for Hosty as well. She was the go to snitch no two ways about it in my opinion.
_________________
I'm just a patsy!
Ed.Ledoux

Posts

: 2967


Join date

: 2012-01-04

Quite a coincidence.
Dave Goldstein said he did sell S&W .38/200 British Service revolvers
Dave of Dave's H.O.G. pointed to Los Angeles for the .38 special. ...right. Shows the FBI agents the catalog, with the .38s in it, from George Rose Co.
Is that where Dave ordered them?
And then David was questioned about 6.5 ammo.
Agent Kirby asks Dave nothing about a scope on November 30th!
It's bizarre Tom.
The death in '65 is reported as natural causes.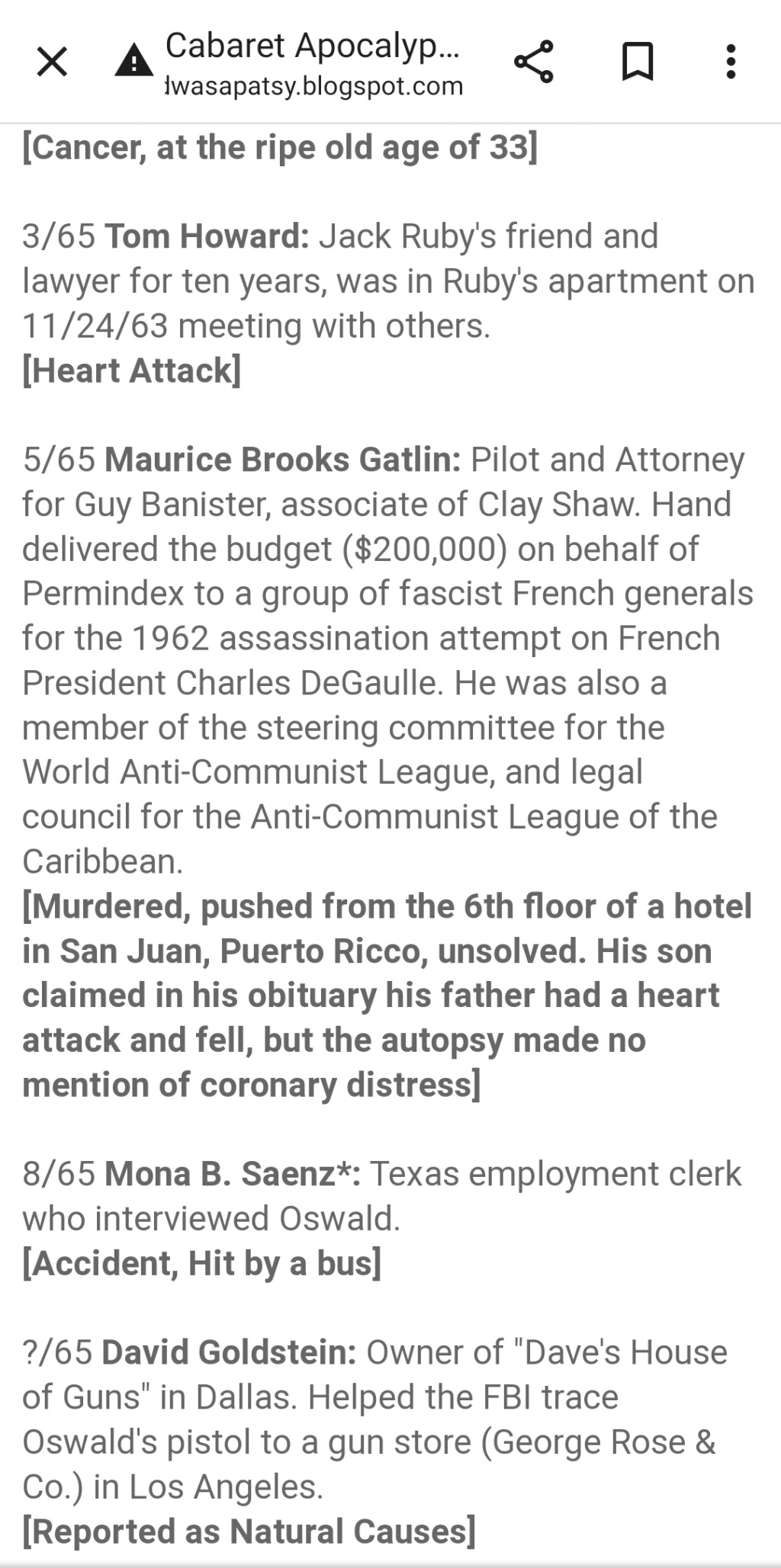 But another Dallas Dave Goldstein....sold the gun to Hinckley who shot President Ronald Regan in 1980.
Goldstein attended the University of Texas and then returned to Dallas to help run the family pawnshop owned by his father, Rocky. Rocky's Pawn Shop, located at 2018 Elm St.
In Deep Ellum, is known for legally selling the .22-caliber Rohm RG-14 Hinckley used in the assassination attempt on Reagan.
https://prestonhollow.advocatemag.com/2021/06/09/david-goldstein/
TRE-BIZZARE
Cheers, Ed
JFK_FNG

Posts

: 212


Join date

: 2021-09-09

I reviewed the Where's Your Rider thread again, which is just phenomenal and I think comparable to the Murphy/Ed Forum PM thread, and have a couple questions. Niehowner and McCoy's 12/4/64 report doesn't have any timestamps, but only says they got to Schneider in the early evening.

Schneider then proceeds to tell the Inspectors the story that ends up later in CE 1799, and that Roberts got her information from Willie Randle. The vacant house right at ground zero is another thing I don't think I've seen mentioned anywhere else. 

I feel like I remember seeing something that put the Inspectors' arrival in Irving at 4:00 p.m. but I can't be sure. They first went to the Irving Post Office and found the 5/15/63 change of address order that later got deep-sixed by the Secret Service, then were told by a postal carrier that Schneider might have information of value in the assassination and was a formal postal worker, the latter of which was false. Who the hell at the Irving Post Office tipped off these guys to Schneider? 
Anyway what I'm getting at is that the timelines here line up pretty damn well with Linnie Mae deciding to drive up to the Paine home and implicate her brother. Is there any info on where Linnie was before she showed up at 2515 W 5th? Could she have found out somehow that Roberts had talked to Schneider, seen the Postal Inspectors at Schneider's, realized she couldn't wait and had to intervene to take the heat off Willie, then gave Adamcik the false Parkland lead so she could tip off Buell the police were on the way - after working out the cover story earlier during Buell's five hours of missing time where he went "straight home" from the TBSD? This is speculative as hell but it seems awfully coincidental that Schneider is telling the Willie Randle story at around the same time Linnie gets the urge to go out of her way and drive to the Paine's to roll on Buell. 
To play devil's advocate though, could Roberts have told Schneider she got her information from Linnie Randle, which Schneider later mixed up with "Willie"? The mention of Oswald carrying a large package and Willie Randle's "employment" at the TBSD seems odd, but still it's hard for me to believe that Roberts and/or Schneider would mix up "
Frazier
" with Randle. 
As mentioned several times, you'd think that if any agency talked to Roberts and she clarified everything saying it was actually Buell then that report would be available. Instead, the Secret Service is in California on Saturday trying to link the scope to Willie Randle and the following report shows up on the 26th with only one name in Oswald's "associates". Here's the whole report in case anyone notices anything interesting: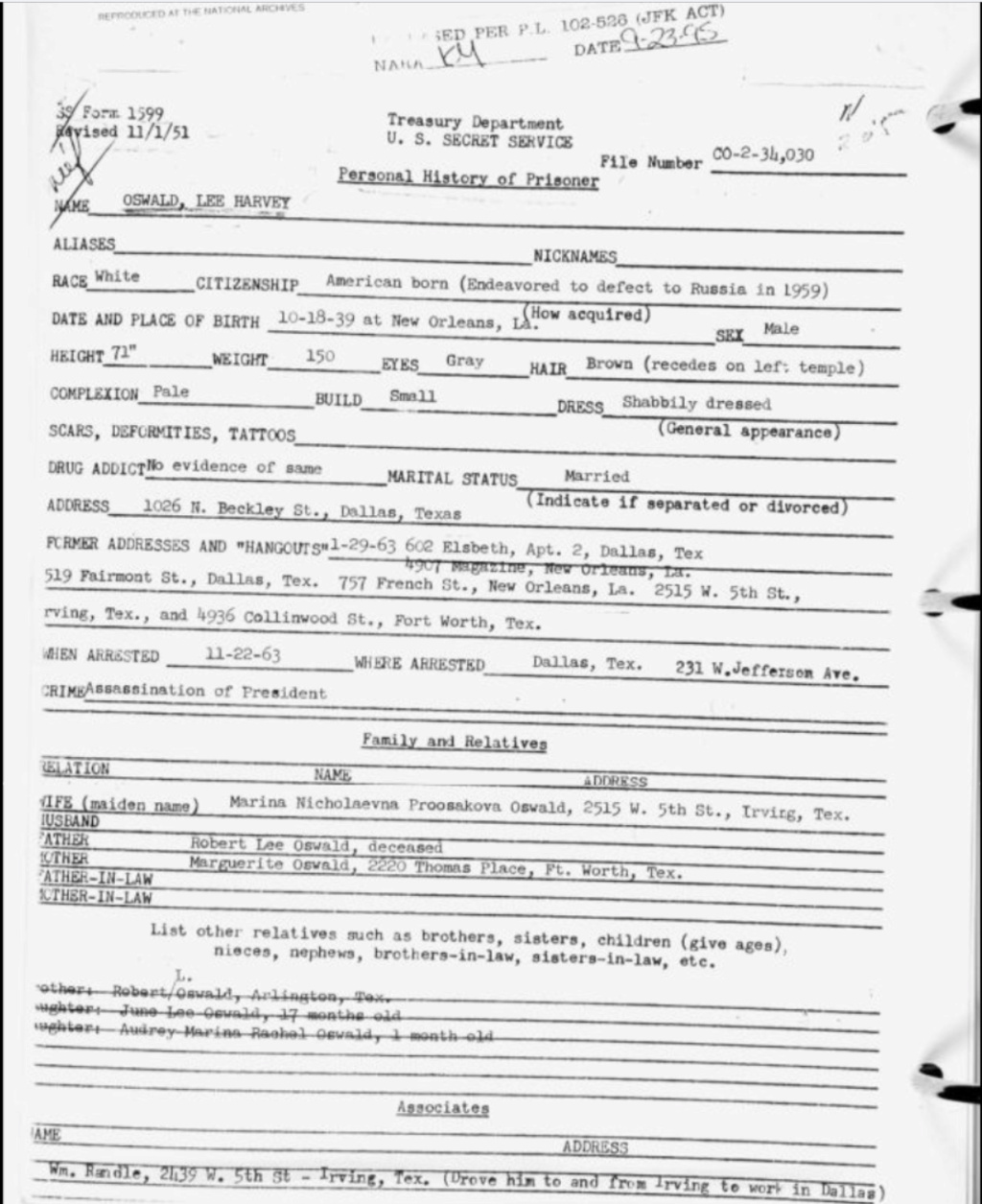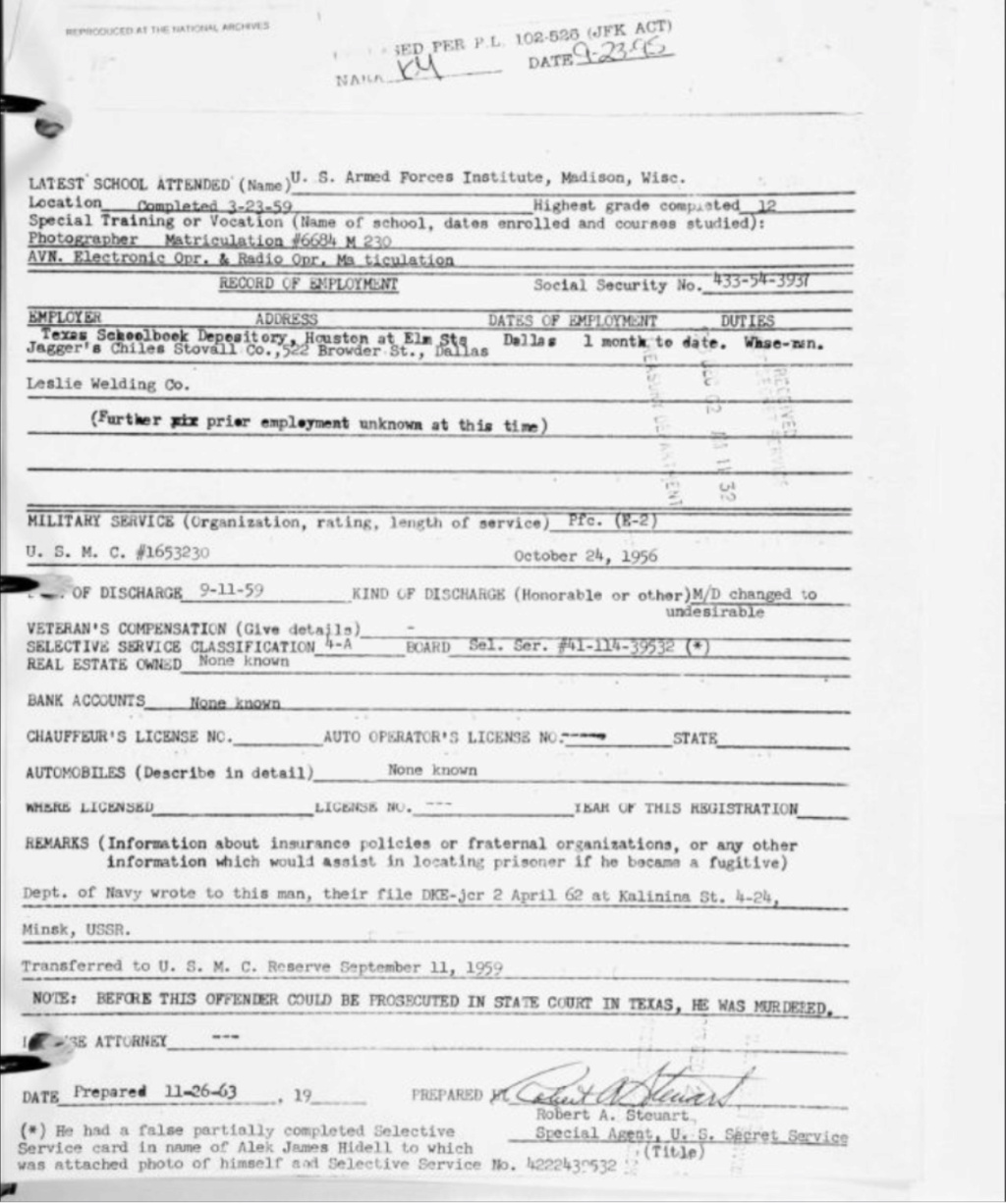 Also, the Irving arrest report on
Frazier
says Mccabe got the initial call at 5:19 p.m., along with some other interesting info given the shifting stories of
Frazier
's arrest:
Another interesting detail is Mccabe's "supplemental report" concerning coordination with Rose and Stovall when they go to the Paine's the next day to "find" the BYPs. There was some discussion in the Where's Your Rider thread about Buell possibly having something to do with the BYPs, and his weirdly similar stance - though he seems too tall to be the figure in the  photos. Mccabe has the same 11/24/63 initials on the top right of all three of these pages. Were they all prepared at the same time and was the BYP discovery coordination with the exact same DPD detectives a "supplemental report" to
Frazier
's arrest?
Just food for thought and some relevant documents I didn't see anywhere in the Where's Your Rider thread.
Permissions in this forum:
You
cannot
reply to topics in this forum