Affiliates
Will The Real Albert Doyle Please Stand Up?
From the webs forum.
1 2 3 Next »

Lee Farley
Administrator
Posts: 537

A number of years ago the highly opinionated know-it-all par excellence known as Charles Drago set about a campaign to 'out' Albert Doyle as a pseudonym posting at Deep Politics …
The Case of the Nuisance Phone Calls Redux
In 2011 I started a thread on the Education Forum that focused on a long neglected assassination story.  The thread received little attention which truly surprised me because I believed the story had some areas that could have shone some light on the wider assassination story.  When I first stumbled upon it the language contained in the FBI documents had familiar hallmarks that I had seen in …
I stumbled on this guy by accident on MFF, and found some interesting stuff so I figured I'd make a post. Carson was an FBI agent in New Orleans who quit in the early 1960's to join and become Manager of Southern Research Co., the sketchy private eye firm clandestinely retained by Clay Shaw's lawyers during the Garrison case. Southern Research also employed former Bannister investigator and FBI …
The Malcolm Blunt Archives
ladies and gents the Malcolm Blunt Archives.

Oh and Doyle don't bother, it is way above your pay grade....
Fletcher Prouty VS Rudolph Reich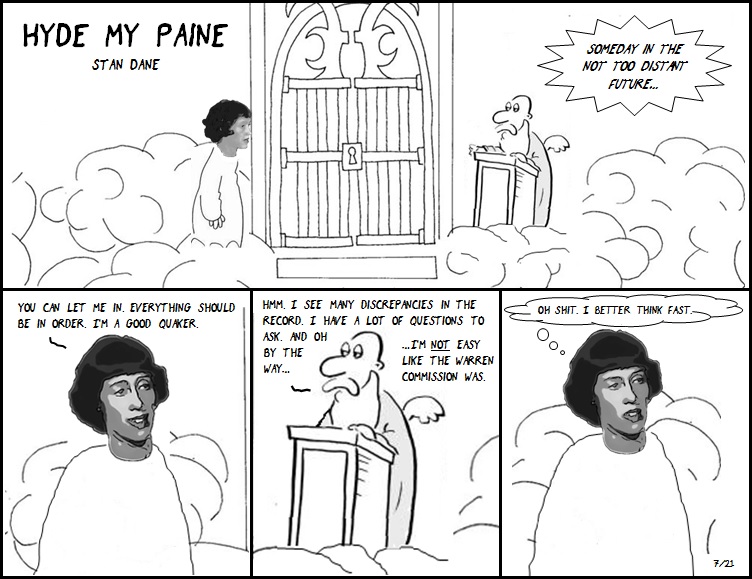 Is It Too Long Ago For The Truth?
Oswald's alibi - yet another look
Tue 31 May 2022, 11:32 am
A few weeks back I got a video call from a facebook friend who had concluded that there must have been an "inside man" in the TSBD. He wanted to know what I thought about that idea. I tried to explain about Roy Truly and this led to a discussion on Oswald's alibi and Truly's role in burying it. Unlike some, I'm not that great at trying to explain this stuff verbally. I need to be able to point to …
Statistics
We have 267 registered users
The newest registered user is TheWatchet
Our users have posted a total of 38956 messages
in 2452 subjects
Who is online?
In total there are
24
users online :: 1 Registered, 0 Hidden and 23 Guests :: 3 Bots
JFK_FNG