Affiliates
Alek Hidell: Despite claims to the contrary, it was never ever established that Oswald used "Hidell" as an alias. Even if, for the sake of argument, we conceded he ordered the weapons in that name, it was supposed to be a different person - not him. The same in  NO. Hidell was some "other" person. Yet post-assassination, Oswald is allegedly carrying "Hidell" ID with his own photo on it, clearly …
Prayer Man
Sat 14 Dec 2013, 11:07 am
Original Prayer Man thread at the Education Forum
http://educationforum.ipbhost.com/topic/20354-oswald-leaving-tsbd/
___________________________________________________________________________________________________
G'day,
I have to say I find it oh so mildly amusing reading some of the comments, thoughts and rants associated on other forums regarding Prayer Man / Oswald on the front steps. …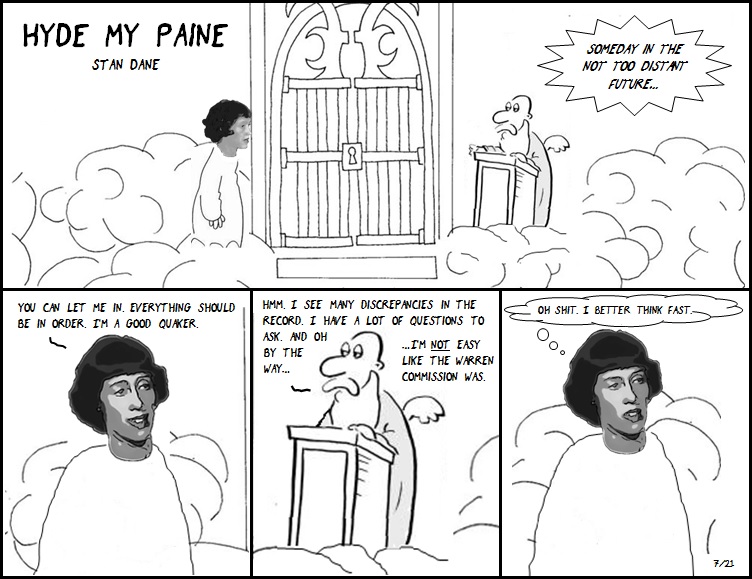 Jim Di's Book Made Into A Movie

[size=12]Mrs Robert Reid
« [b]Reply #274 on:[/b] September 19, 2019, 04:53:42 PM »
Frazier did say that after he and Sarah heard Calvery say the president has been shot and Sarah said "I think she said the president has been shot" he and Sarah "Stared at each other in shock for the longest time"...There was a …
Fritz's list of "important evidence" to Curry, 12/23/63
Sat 12 Oct 2019, 10:18 am
My comments follow in this color. Although I have only summarized Fritz's list items, I have done so in a manner not to alter the information being conveying

1. M-C rifle with Japanese scope found on 6th floor. Originally identified as a Mauser

2. Shells found near the southeast window of same floor. The shells were photographed in situ, but look "posed" rather than randomly scattered

3. A …
passing on the power to titovets
On Oswald's application to attend Albert Schweitzer College, he listed his favorite authors as Norman Vincent Peale, Jack London and Charles Darwin.

Jack London was one of the founders of The League for Industrial Democracy (LID), whose purpose was to extend democracy in all aspects of American life. During the Cold War, it was renamed the Student League for Industrial Democracy (SLID), had …
An Open Letter to Lance Payette
Lance,

I once admired your even-handedness. What happened to that? The Lone-Nutters and Tin-Foil Hatters are just opposite sides of the same coin. I think you say a much in a slightly different way, yet you have begun arguing in the same manner, using the same tactics as the Nutters.

Which means that there are some elephants  that you seem to want to step around and avoid. Let me enumerate …
Dallas police search and seizures
Wed 09 Oct 2019, 11:26 am
From the Fritz files

As far as I am aware, Steve Thomas was the first, but if not, certainly the most vocal, about the timings of the two searches making no sense if the N Beckley address was only discovered via a phone number found during the Paine house search. This is per the deputies who took part in that search. Fritz on the other hand, …
Statistics
We have 183 registered users
The newest registered user is Jon Pickering
Our users have posted a total of 30709 messages
in 1988 subjects
Who is online?
In total there are
10
users online :: 0 Registered, 0 Hidden and 10 Guests :: 2 Bots
None