Sat 07 Oct 2017, 11:52 am
From David Josephs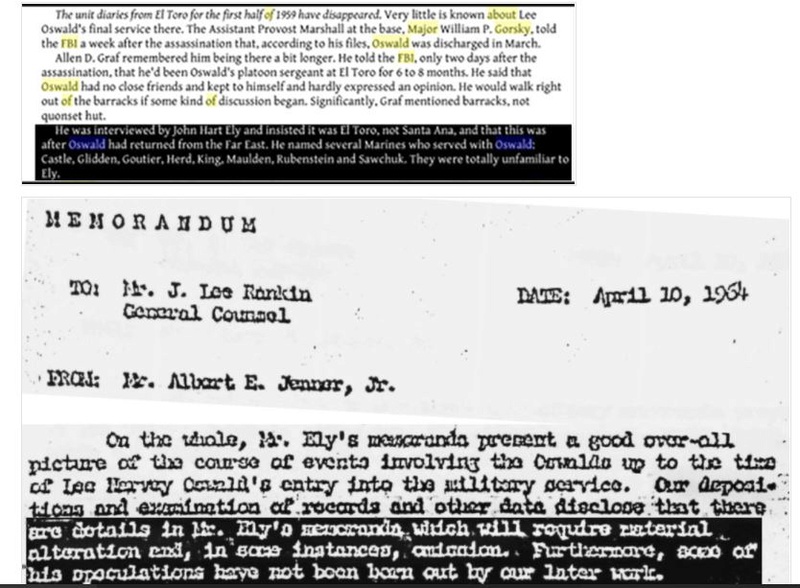 This is the sort of sleight of hand they employ.
Ely interviewed Gorsky about Oswald in the Marines.
Ely also wrote the Oswald bio from birth up until his commenced in the Marines. 
On April 10 1964, Jenner wrote a memo outlining that although he thought Ely's bio was generally pretty good, the commission had evidence which demonstrated that some "material alteration" and omissions.
I first debunked this around 2004? at the Ed Forum.
Firstly, anyone who has worked in an office environment or on any major projects knows, reports written by workers at or near the bottom of the totem pole get passed up the line for consideration and evaluation. Sometimes what is passed up is approved as is, sometimes changes are ordered. That is the way the real world works. There is nothing and I mean
nothing
odd or suspicious about Jenner's memo.
The other point is that Jenner is specifically talking about Ely's bio of Oswald from birth until entering the Marines - not anything after that point. So why is David trying to link the memo to an Ely interview regarding the Marines? I suggest because he is just plain dishonest and will resort to any sleight of hand to push this shit up that that hill.
_________________
Australians don't mind criminals: It's successful bullshit artists we despise.
              Lachie Hulme            
-----------------------------
The Cold War ran on bullshit.
              Me

"So what's an independent-minded populist like me to do? I've had to grovel in promoting myself on social media, even begging for Amazon reviews and Goodreads ratings, to no avail." 
Don Jeffries
"I've been aware of Greg Parker's work for years, and strongly recommend it." 
Peter Dale Scott
https://gregrparker.com
Permissions in this forum:
You
cannot
reply to topics in this forum