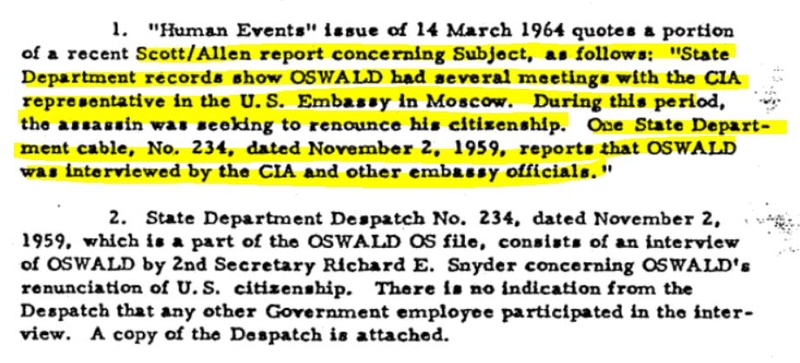 I believe Scott & Allen got it right. Oswald was interviewed not just by former CIA spotter Richard Snyder, but by someone he had "spotted" (recommended for recruitment) into the CIA REDSKIN program, Ed Keenan. 
It is true that the cable produced in the records makes no mention of Keenan. I believe it is a sanitized version of the original. 
Scott and Allen would later be illegally targeted for domestic CIA surveillance on the basis of the amount of CIA secrets they had been publishing. The CIA would not do this if the material being published was inaccurate.
It beggars belief that a recruit of Snyder's would happen to come down from Leningrad on a Saturday for visa problems (as he would later claim) the same day Oswald attends to renounce citizenship. Keenan's specialty was Russian society and his role was probably that which was described to the HSCA by CIA officer Russell Langelle as handling orientation projects.
_________________
Australians don't mind criminals: It's successful bullshit artists we despise.
              Lachie Hulme            
-----------------------------
The Cold War ran on bullshit.
              Me

"So what's an independent-minded populist like me to do? I've had to grovel in promoting myself on social media, even begging for Amazon reviews and Goodreads ratings, to no avail." 
Don Jeffries
"I've been aware of Greg Parker's work for years, and strongly recommend it." 
Peter Dale Scott
https://gregrparker.com
Permissions in this forum:
You
cannot
reply to topics in this forum