TommyW

Posts

: 7


Join date

: 2020-11-17

Fri 11 Mar 2022, 10:29 pm
Hello ROKC members. It's been a long period since I have been here on the site. I have been hard at work on our newest released book UNDER A KANSAS MOON: The Final Chapter by Tommy & Hilde Wilkens. For all new members we thought we would bring to their attention our book Walking The Razor's Edge: The Dutchman and The Baron.
   One of the very main individuals connected to Lee Oswald who was a mentor type father like figure to the young 24 year old Lee Oswald was a man named George de Mohrenschildt. A former Russian with a shady shady background. When we decided to really take a close look at this friendship, we found in our research that de Mohrenschildt had formed a close intimate 10-year friendship with a Dutch Journalist named Willem Oltmans. In that close friendship Oltmans was able to gain de Mohrenschildt's trust and over the 10 years he told Oltmans of his close friendship with Lee Oswald and the influence he had over young Oswald. We learned that Oltmans had preserved all his notes and files concerning de Mohrenschildt and the huge, saved archives were stored in Den Hague The Netherlands. At that point we made a decision to launch a project and see what we could find in those private archives. We made all the contacts necessary to be given permission from the Willem Oltmans society and the Oltmans family in The Netherlands and were granted permission to study and research all 1500 bound diary type books stuffed full of personal notes and handwritten letters from Oltmans to George de Mohrenschildt and handwritten letters from de Mohrenschildt to Oltmans which numbered in the hundreds preserved in these archives. We made 4 trips in total from the United States to Den Hague the Netherlands to do our research. We found so much incredible information we knew we had to bring this back here and tell this story. This was hands on research not just on a computer and the internet. We interviewed personal friends of Willem Oltmans and one particular friend told us that days before Oltmans passed away he said his one last hope was that someone someday would come along and take a second look at his findings and his research into George de Mohrenschildt and his connection to Lee Harvey Oswald and the John F. Kennedy assassination. We are that someone who came along, and we are that second look. We compiled our findings, and we spent several years putting all we found into manuscript form and finally in a published book form. "Walking The Razor's Edge: The Dutchman and The Baron". To anyone who is interested in the John F. Kennedy assassination this book will help you to understand who and what was going on in the life of Lee Harvey Oswald and his mentor George de Mohrenschildt before President Kennedy was assassinated.
Who was George de Mohrenschildt? 
As the many layers of his carefully constructed public persona are peeled away, the list of answers to that question begins to grow exponentially longer. It is quite possible that no one person was allowed to know the man in his entirety. But through the dogged determination of Dutch investigative journalist Willem Oltmans, a picture slowly emerges of a shadowy figure undoubtedly connected to some of the most significant events of his time - a soldier of fortune an expert keeper of secrets. This book details a ten-year period of fascinating interplay between a reporter chasing the biggest story of his career and a man of great mystery, deeply conflicted by what he knows and his need to unburden his conscience. The intertwined lives of these two strong willed men include moments of triumph and tragedy occurring on a scale that the average person cannot imagine. Both are victimized time and again by circumstances they cannot control. Which of them will prevail in the end? And at what cost?
 Our book has been excepted by The Willem Oltmans society and has been added to The Willem Oltmans Archives at The Dutch Royal Library in Den Hague The Netherlands. Our book can be purchased through Amazon Books.com, Kindle Books.com, Smashwords.com, Ingram Sparks Book Distribution. Barnes & Nobles Book Store.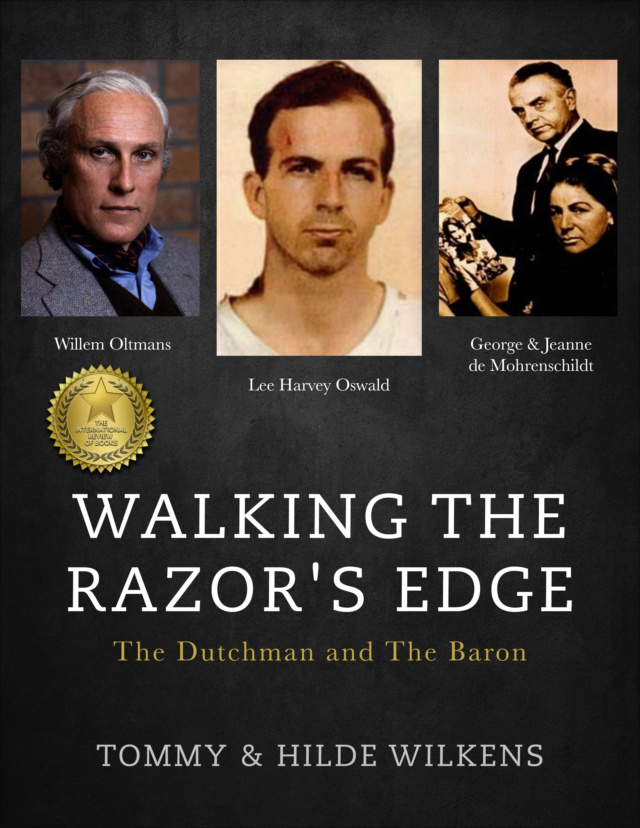 Permissions in this forum:
You
cannot
reply to topics in this forum