Vinny

Posts

: 2965


Join date

: 2013-08-27


_________________
Out With Bill Shelley In Front.
Vinny

Posts

: 2965


Join date

: 2013-08-27

Vinny

Posts

: 2965


Join date

: 2013-08-27

Mick_Purdy

Posts

: 2346


Join date

: 2013-07-26


Location

: Melbourne Australia

It is but one frame of many Vinny. I believe we have to look at the film in its entirety to examine whether Frazier is talking with PM. Having said that and after having viewed the footage as a whole I'm almost certain Frazier is looking at and possibly talking with the PM figure.
Oh for the original film.
_________________
I'm just a patsy!
Vinny

Posts

: 2965


Join date

: 2013-08-27

Thanks Mick. You are right. Having the original entire film would settle it once and for all.

_________________
Out With Bill Shelley In Front.
Vinny

Posts

: 2965


Join date

: 2013-08-27

alex_wilson

Posts

: 1136


Join date

: 2019-04-10

Thu 01 Oct 2020, 10:44 pm
Really interesting Vinny...

I truly appreciate all the hard work and tireless effort. You guys deserve real plaudits.
I'm always dubious of claims predicated on blurry internet reproductions of indistinct images , just look at the havoc that's been wreaked.
Self declared experts clogging up the already furred arteries of JFKdom with their wildly exaggerated and irresponsible claims.
While appending my comments with the usual disclaimer I think this is a really compelling image Vinny.

It's always been the supportive evidence rather than the image itself but seeing this really makes me think.

How anyone apart from grandstanding clowns or angry spite filled grudge holders could seriously entertain the notion that this image represents a diminutive grey haired obese woman is simply beyond me...

The whole jocular magic camera makes light hair dark and wigs in a professional situation claims are barely a roach clip away from claiming some nefarious spook hunched in his mobile photo alteration truck hurriedly Loveladyfied poor Sarah's forehead...

With all due respect to Chris when I studied the so called " enhancement" closely I was genuinely shocked.
It's an absolute abomination.
Someone ( I don't for an instant suspect Chris himself )has clearly tampered with it.
With this and the notorious " buttons"... I suspect Brian's gullibility and his self declared vendetta has once again been exploited.
Along with Professor Larsen our chum from Sanibel is the absolute personification of the " useful idiot"

Have you read the latest dispatch from the Sanibel Bunker?
Gilbride is an " Ivy League vocabulary researcher"!!!!
Why not the brilliantly articulate Larry Trotter? 
Or the delightful witty Tommy Graves? The thinking woman's Lurch...

Brian, Gilbride is an odious jumped up pissant whose sense of entitlement vastly exceeds exceeds his actual ability..
Hence this self proclaimed Rutherford is reduced to painting laboratory walls

The only people who take you seriously are hapless bit part players eaten up by anger and resentment...

Sound familiar?

I've looked at your " community leading evidence" like your other " work" it's a muddled jumble of wilful distortion , self delusion and naivete... the latter causing you to be continually duped into believing " witnesses"

Kathy Beckett may not be Mae Brussel nor indeed Miss Marple, then again maybe she doesn't want to be. Not even the Great Henry James could have conceived a a scenario so loaded with irony...

An attempted rebuttal of the claims about your lack of maturity and propensity for adolescent insult...that was one long angry insult filled diatribe ...something an indignant teenager might write

Having grown up in an academic environment and having had the privilege of studying under some highly respected scholars you are about as far as it's possible to get from academic discourse.

You struggle with the very basics

Don't you realise that the myriad conspiracies you espouse are by their very nature fundamentally contradictory?

I can tell by your attitude and cavalier disregard for facts whatever little knowledge you possess came via the so called revisionists...

Without realising it you and your fellow loudmouths, cartoon like caricatures peddling conspiracy fables represent one of the greatest obstacles to this case ever being re examined.

The briefest exposure to you , Jeffries or the H and L cultsters would turn the vast majority of good hearted folk off...
The minority that remain are of course the detritus .... the lost, the damaged and the disillusioned.
Always on the hunt for the latest easy answer.

I tried to communicate with you Brian. I really did.
But I should have learned by now you cannot help someone who doesn't want to help themselves.

You seem content to remain adrift in the Dreamworld youve constructed for yourself...

_________________
A fez! A fez! My kingdom for a fez!!
The last words of King Richard HARVEY Plantagenet III 
Bosworth Field 1485

Is that a doppelganger in your pocket or are you just pleased to see me?
Artist, poet, polymath, cancer research prodigy Judyth Vary Baker's  first words to Lee HARVEY Oswald. New Orleans April 1963

For every HARVEY there must be an equal and opposite LEE
Professor Sandy Isaac Newton Laverne Shirley Fonzie Larsen's 
Famous 1st Law of Doppelganging

" To answer your question I  ALWAYS  look for mundane reasons for seeming anomalies before considering  sinister explanations. Only a fool would do otherwise. And I'm no fool" The esteemed Professor Larsen  From  his soon to be published  self help book " The Trough of Enlightenment "( Trine Day  Foreword  Vince Palamara)

" Once you prove Davidson's woman's face then Stanton's breasts follow naturally " Brian Doyle
Vinny

Posts

: 2965


Join date

: 2013-08-27

Thanks Alex. You are right. Both Doyle and Gilbride have a grudge against ROKC and by extension With PM. That is the reason for all their nonsense about it being a woman. Poor Oswald is just a pawn in the game for these guys. They don't care about him at all.

_________________
Out With Bill Shelley In Front.
Mick_Purdy

Posts

: 2346


Join date

: 2013-07-26


Location

: Melbourne Australia

Sun 04 Oct 2020, 11:32 am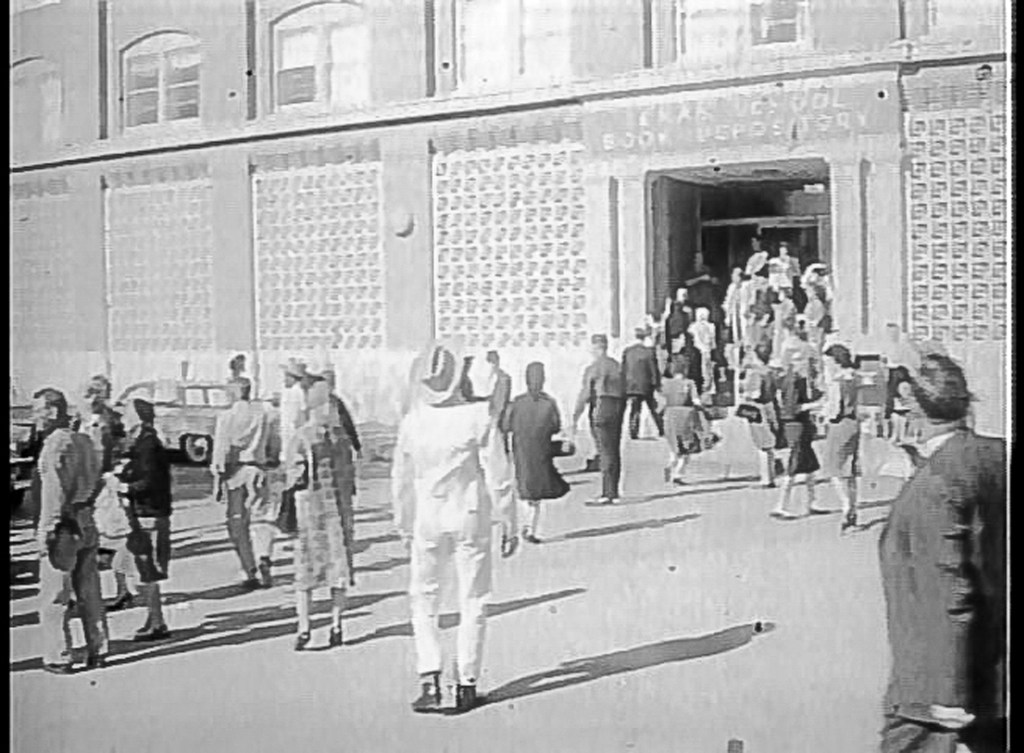 Vinny it's only one frame of many but what a frame it is. Given that every person standing on the steps has been positively identified except for one in this Darnell frame it is simply a matter of elimination. Is the PM figure a perfect stranger we see standing at the rear atop of the steps or Lee Harvey Oswald? In an instant I can identify the tall man standing next to PM on his left as Buell Frazier. Wesley identified the tall man in the photo as he. To my mind That is Lee Oswald without any doubt standing atop of the steps to the far left in the shadows next to his friend Buell Wesley Frazier. And finally, we now have a positive identification of PM from the person who should know best - Marina Oswald Porter. Upon viewing the Darnell frame, she immediately acknowledged that the figure at the top of the steps to the left-hand side of the vestibule is her late husband Lee Harvey Oswald.
_________________
I'm just a patsy!
Permissions in this forum:
You
cannot
reply to topics in this forum