Social bookmarking










Bookmark and share the address of REOPENKENNEDYCASE on your social bookmarking website

Bookmark and share the address of REOPENKENNEDYCASE on your social bookmarking website
Affiliates
There isn't a canard about this case that Donald doesn't seem to have bought into. 
From the Federal Reserve BS to the Bohemian Grove BS, it's all there.
But let's look at a lesser known one. Jeffries reports that the
Dallas Morning News
discovered in the 1970s that Minox cameras were not available to the public 1963. The say-so of the DMN is good enough... in fact, anyone saying anything that points to government conspiracy is all Don needs to publish it as fact.
Otherwise he could attempt to verify such claims before publishing them.
He is a
1963
US ad for the Minox.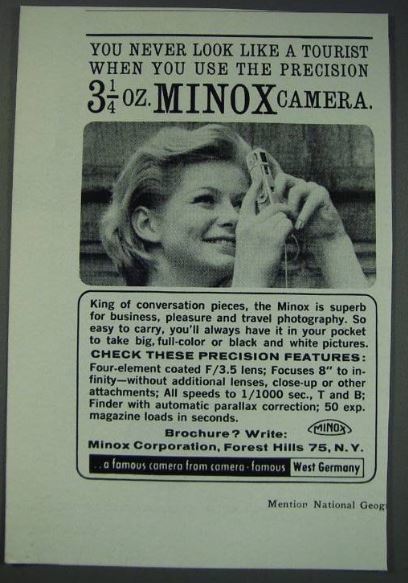 This is a 1963 ad for a Minox Camera! The size of the ad is approximately 3x5inches. The caption for this ad is 'You never look like a tourist when you use the precision 3 1/4 oz. Minox Camera' The ad is in great condition. This vintage ad would look great framed and displayed! Add it to your collection today!
http://www.ebay.com/itm/1963-Minox-Camera-Ad-You-never-look-like-a-tourist-/282167871455?hash=item41b28407df&nma=true&si=yre3Z97wju9vXCaesEwgVcC5XKo%253D&orig_cvip=true&rt=nc&_trksid=p2047675.l2557
But I can also report that Mr. Jeffries is a fine writer.  However, he should stick to fiction where it is appropriate to make up your own facts.
_________________
Mixing Pop and Politics he asks me what the use is
I offer him embarrassment and my usual excuses
While looking down the corridor
Out to where the van is waiting
I'm looking for the Great Leap Forward
            Billy Bragg
----------------------------- 
Australians don't mind criminals: It's successful bullshit artists we despise. 
             Lachie Hulme            
-----------------------------
The Cold War ran on bullshit.
              Me
"God favors drunks, small children, and the cataclysmically stoned..." Steve King
"The worst thing about some men is that when they are not drunk they are sober." Billy Yeats
"You're not drunk if you can lie on the floor without holding on." Dino Martin
https://www.thenewdisease.space
Admin




Posts

: 4836


Join date

: 2009-08-21


Age

: 60


Location

: Orange, NSW, Australia



IMO, Don Jeffries is an absolute disgrace to the so-called research community.



Posts

: 1899


Join date

: 2013-03-13


Age

: 29


Location

: Melbourne, Victoria, Australia




Similar topics
---
Permissions in this forum:
You
cannot
reply to topics in this forum