Social bookmarking










Bookmark and share the address of REOPENKENNEDYCASE on your social bookmarking website

Bookmark and share the address of REOPENKENNEDYCASE on your social bookmarking website
Affiliates
Gary Mack, September 19, 2013 wrote:
The Prayer Man question has probably been answered.  I recently sent the Couch and Darnell frames to Buell Frazier and asked what he thought.  First, he wouldn't confirm himself being on the top step because the image isn't clear enough.  He then re-confirmed that Lovelady and Shelley were out on the steps with him, just as he has always said, but  he couldn't confirm Shelley, either, due to the image quality.
 
Next I asked about Shelley's appearance and learned he was a little taller than Lovelady (who was 5'8"), had red hair and a slender build.  When I asked if Shelley usually wore a coat and tie to work Buell said no, he "dressed daily in slacks and sport shirts."  And he repeated that he, Lovelady and Shelley stayed on the steps for "a short time" after the last shot, but he didn't estimate how long.
 
So unless Buell Frazier is still part of the cover-up plot, TSBD "Miscellaneous Department" manager William Shelley, by elimination, must be Prayer Man.  According to Shelley's testimony, "I didn't do anything for a minute" following the last shot, so the man was standing on the steps before, during and after the time Darnell and Couch filmed those brief scenes.
Sean Murphy, September 20, 2013 wrote:
This is a real breakthrough, and I for one am very grateful to Gary for taking the trouble to contact Buell Wesley Frazier.
 
Why is it a breakthrough?
 
Well, not because of the Shelley idea. For Shelley's own testimony, and that of the person with him Billy Lovelady, rules him out as Prayer Man:
 
Mr. BALL - How did you happen to see Truly?
Mr. SHELLEY - We ran out on the island while some of the people that were out watching it from our building were walking back and we turned around and we saw an officer and Truly.
Mr. BALL - And Truly?
Mr. SHELLEY - Yes.
Mr. BALL - Did you see them go into the building?
MMr. SHELLEY - No; we didn't watch that long but they were at the first step like they were fixin' to go in.
Mr. BALL - Were they moving at the time, walking or running?
Mr. SHELLEY - Well, they were moving, yes.
 
Darnell shows Baker just a couple of seconds away from the building entrance. Prayer Man is still standing up on the steps. So Shelley is ruled out. Period. (Unless, that is, someone wants to accuse him and Lovelady of lying in their WC testimony about their run out on to the 'island'. Who wants to go first?)
 
The reason Buell Wesley Frazier's response is a breakthrough is that Bill Shelley appears to be the only possibility BWF himself can offer when presented with the Prayer Man image. (Although it's not quite clear from Gary's message whether BWF himself nominated Shelley or whether that's Gary's own suggestion.)
 
Given that he is not giving us some new revelation as to the presence of some hitherto unmentioned other person on the steps at that time (i.e. a stranger to the building), and given that Prayer Man cannot possibly be Shelley, we have just received startling confirmation that Prayer Man can only reasonably be Lee Oswald.
 
BWF probably knows it's Lee but--for the most understandable reasons in the world--cannot say so.
However, to give him credit, he's just done the next best thing.
Gary Mack, October 8, 2013 wrote:

Sorry, folks, you cannot use Pierce Allman to turn Oswald into PM. I've known Pierce for many years, and this account is the story he has always told and sticks with today: 

http://www.maryferrell.org/mffweb/archive/viewer/showDoc.do?docId=10755&relPageId=4

.  

(The report has one error I know of: Pierce was program director of WFAA radio, not TV, and once Oswald pointed to the phone, Pierce called the radio station.) 

Based on his travel down to the Newmans TWICE from the Elm-Houston intersection, he could not have gotten to the TSBD door for 2, 3, maybe 4 minutes depending on how long he spoke to them, whether he spoke to others, or just looked around before heading to the building and dodging traffic. 

For Oswald to be PM, he would have had to hang around the front door for several minutes from the moment of the shooting until he was met by Pierce, and that is highly unlikely. One or more fellow employees would have seen him and eventually reported it. Instead, Pierce stopped Oswald as Oswald left the building following the lunchroom encounter, for no other explanation makes sense. 

Pierce may have flashed his press pass to Oswald, but he didn't remember doing that nor did co-worker Ford say he did....but he certainly could have done so and it would have been a natural thing to do at the time. 

As for Oswald's belief Allman was a Secret Service man, the notes and recollections say he said the man had a crew cut hair style. Pierce appeared on WFAA-TV later that afternoon, the tape exists, and he certainly did have that hair style. Although Manchester and other books often attribute the TSBD encounter to NBC's Robert MacNeil, that's simply wrong. Tapes of MacNeil that day show his hair was much, much longer than Allman's and it was even longer then than it is today. 

Folks will have to look elsewhere to ID the Prayer Man, for he certainly wasn't Oswald. (Unless, of course, one subscribes to the theory that the polite, ever-trusting killers allowed all TSBD workers who could have seen Oswald on the steps to live for years if not decades after the assassination, hoping they would never tell anyone.)
Gary Mack, October 10, 2013 wrote:
Cheap shot, Sean, cheap shot.  I can think whatever I want.  History has put Oswald elsewhere whether you agree with that or not. As to your question, I think Prayer Man is NOT Lee Harvey Oswald.  Clear enough?
Sean Murphy, October 10, 2013 wrote:
Gary, we already know you think Prayer Man is NOT Lee Harvey Oswald. History has evidently placed you in a position where you are professionally compelled to rule that possibility out. But in answer to your question: no, not clear enough.
 
Who do you think Prayer Man is? Are you still, by process of elimination, backing the slender white male TSBD employee Bill Shelley?
Sean Murphy, October 19, 2013 wrote:
Highly, highly significant IMO that BWF was unable to identify Prayer Man as someone other than Lee when Gary Mack showed him the image.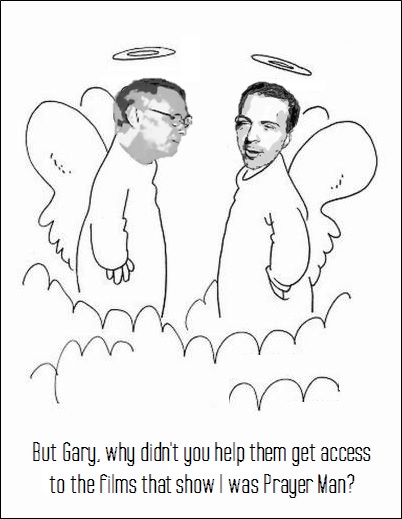 Posts

: 2853


Join date

: 2013-09-03


Age

: 64



Why didn't Gary show his 4k scan to Buell?



Posts

: 1137


Join date

: 2012-01-04



Ed. Ledoux wrote:Why didn't Gary show his 4k scan to Buell?
Probably the very same reason Buell has kept his mouth shut all these years. Fear.
A system powerful enough to eliminate the leader of the free world is powerful enough to keep certain people from speaking or otherwise doing unhelpful things. 
Child's play, actually.



Posts

: 2853


Join date

: 2013-09-03


Age

: 64



I remember when that cartoon was deleted by the moderators at the ED Forum who said it was disrespectful.



Posts

: 434


Join date

: 2013-08-27



---
Permissions in this forum:
You
cannot
reply to topics in this forum