Social bookmarking










Bookmark and share the address of REOPENKENNEDYCASE on your social bookmarking website

Bookmark and share the address of REOPENKENNEDYCASE on your social bookmarking website
Affiliates
Ruth Paine
George de Mohrenschildt once speculated that the assassination was the result of an argument that the Oswald's had about obtaining their own apartment. Marina had objected that she could not move from the Paine residence unless she had
her own washing machine
. This dispute had allegedly taken place on the night prior to the assassination and caused Oswald to "strike out and hurt someone".
But what
really
happened… and
when
did it happen?
It is apparent that Oswald was seeking a place to reunite his family from at least the previous Friday. 
On that day he was seen at (and assumed, rightly or wrongly to be living at)
507 East Tenth Street
in Oak Cliff. This is only about a tenth of a mile from the Tippit murder site – literally a 2-minute walk.  
Also seen entering or leaving the apartment on that day, separately, were two others, believed by the witness to be Jack Ruby and Marina Oswald respectively.  
The person believed to be Jack Ruby was described a wearing black coat with a fur collar. I have been unable to find any photo or document showing that Ruby had such a jacket. It is much more likely, in my opinion, to have been a member of the White Russian community.  
The person believed to have been Marina is like-wise someone else. In this instance, the clothing and hair description help nail the person's real identity. It was without doubt, Ruth Paine. 
The description given: black hair, on one occasion wearing a plaid skirt with a light-colored top and another time, the same skirt with a black colored blouse or top.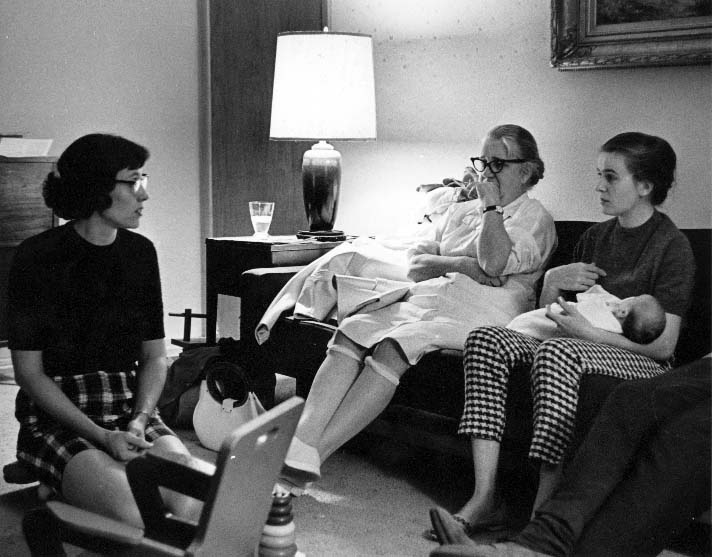 photo shows left to right, Ruth Paine, 
Marguerite Oswald & Marina Oswald nursing 
baby Audrey
The above photo was taken after the assassination, but prior to the sequestering of Marguerite and Marina. It clearly shows Ruth with dark or black hair and wearing a plaid skirt and a dark or black blouse.  
On the same day that Ruth and Lee were seen at 507 East Tenth Street, someone phoned the
Ridgewood Furniture Company
in Garland asking about renting a washing machine for a Marina Oswald. This person was remembered as offering the name "Ruby" - last name unrecalled - as a credit reference.
This too was undoubtedly Ruth Paine, with the first name becoming confused with Jack Ruby's surname post-assassination.
Ruth was duly interviewed - meaning that the FBI came to the same conclusion I did regarding the name confusion. In this interview, she gave one of her oh so clever non-denials - "
a call to Garland would be a toll call and I therefore would remember had I made it." 
In no way did that statement rule out her having made the call. She is simply stating she would remember making it if she did. Yet the FBI chose to infer from it just such a blanket denial and failed to even check Ruth's toll calls for that day. But then, the investigating agents also failed to interview the owners or landlords associated with 507 East Tenth Street as well, so we can hardly be surprised. This whole area was going to be deep-sixed, come hell or high water.
The following explains how
Quakers avoid technical lies
while also avoiding telling the truth:
Quakers who take not lying very seriously have traditionally still occasionally used not telling the whole truth as a way around that strictness. There are stories about people giving intentionally misleading but not technically false responses to questions like "why would you think that?" and non-quakers warning each other to force a quaker into giving a straight answer and not to be misdirected by apparent denials that aren't actually making any claim. So even if you do believe that you should be always telling the truth and nothing but the truth, I'm not sure about the whole truth.
Ruth's Warren Commission testimony is full of similar examples for anyone who wants to depress themselves by looking.
Marina was also asked about this call to the Ridgewood Furniture Company
. She denied knowing anything about it, but what we do learn is that the question of a washing machine for Marina was raised well before the night of November 21. 
The final question to file under this is, why was information about Oswald seeking to reunite his family in their own apartment and obtain some modest modern appliances, not properly investigated and then buried? The answer is for the same reason as the Downtown Lincoln Mercury test drive was dismissed. Oswald looking to reunite his family and buy a car is an Oswald with an eye to a future beyond November 22. It does not fit the "lone nut" narrative.
_________________
Mixing Pop and Politics he asks me what the use is
I offer him embarrassment and my usual excuses
While looking down the corridor
Out to where the van is waiting
I'm looking for the Great Leap Forward
            Billy Bragg
----------------------------- 
Australians don't mind criminals: It's successful bullshit artists we despise. 
             Lachie Hulme            
-----------------------------
The Cold War ran on bullshit.
              Me
"God favors drunks, small children, and the cataclysmically stoned..." Steve King
"The worst thing about some men is that when they are not drunk they are sober." Billy Yeats
"You're not drunk if you can lie on the floor without holding on." Dino Martin
https://www.thenewdisease.space
Admin




Posts

: 4799


Join date

: 2009-08-21


Age

: 60


Location

: Orange, NSW, Australia



Marina was obsessed with appliances and modern conveniences it seems. Still a washing machine only fights half the laundry battle.
Imagine her finding out about clothes dryers!

This I make light of, but Greg has pointed out something which only someone with an agenda would deny.
Lee was ready to move the family into a new place.
Not sure if the curtain rod and or curtains were to accompany the Oswalds in their new digs.
But even Buell's tale may be supportive.
The money Lee saved and gave Marina would be a deposit, with Friday's TSBD check they had rent.
I would move that weekend if I were Lee.
With Ruth's help Lee never got to unite his family under his own roof.

Then there is the diagram from Lee's notebook.
Could this be the new apartment or house.
A sketch to show others (Marina, Ruth) the place he would be setting up for the girls.

100 percent does not fit the narrative of a LN killer.
Thanks Greg.
Cheers,
Ed
The old thread
https://reopenkennedycase.forumotion.net/t283-the-washing-machine-conspiracy
The washing machine for Marina,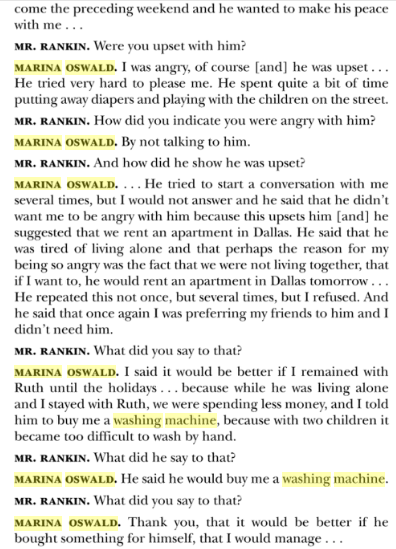 And the reports
And just so you believe the Washing Machine Theory is based on strong feelings that would justify murder, then just check the ad I found for Ridgewood Furniture and Appliance in 1962 Garland paper. 

They only have one application requirement, extreme dislike

RENTALS automatic WASHERS and REFRIGERATORS rent, apply on pure hate Ridgewood Furniture & Appliance BR 8-0521 USED TELEVISION PORTABLES* consoles and table model* Ridgewood Furniture & Appliance BR 8-0521

I include a screen capture to bolster the find.


---
Permissions in this forum:
You
cannot
reply to topics in this forum